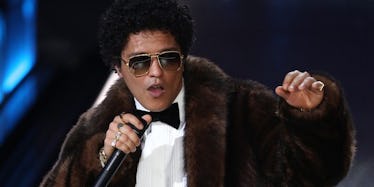 Bruno Mars Reveals How He Got His Stage Name And Wrestling Is Involved
REX/Shutterstock
What's in a name? Most people don't get to choose what people call them, but that's not the case for many of the big names in Hollywood.
Celebrities choose their stage names for various reasons — Katy Perry and Michael Keaton had to change their given names in order to not be confused with already established stars (Kate Hudson and Michael Douglas, respectively), and singers like Lady Gaga and Lorde chose more memorable names to get ahead in the music industry.
Another singer who adopted a snappy new name when he arrived in Hollywood was Bruno Mars.
The "24k Magic" singer was born Peter Gene Hernandez, but quickly adopted the nickname "Bruno" from his father. Why Bruno? Well apparently, his dad thought that he resembled the pro wrestler Bruno Sammartino.
Mars told Rap Up it's because he was a chunky little kid, and Sammartino was known for his large frame.
And Bruno isn't the only singer to take his childhood nickname into stardom — Miley Cyrus was born as Destiny Cyrus, but grew up being known as "Smiley" by her family, which she then shortened and made her legal name after getting famous.
So as young Peter Hernandez grew up in Honolulu, Hawaii, his friends and family would call him Bruno. However, it wasn't until he left the island that he developed his intergalactic surname. After graduating high school, he moved to Los Angeles at the age of 17 to start his music career.
With the last name of Hernandez, producers would assume that Bruno was looking to make Latin records, but of course, Bruno's real passion was funk and R&B.
According to Rap Up, he says he came up with Mars to add some "pizazz" to his name, joking that since girls would call him "out of this world," he might as well be from Mars.
Obviously, the new name stuck and now the whole world knows Peter Hernandez as the chart-topping crooner Bruno Mars.