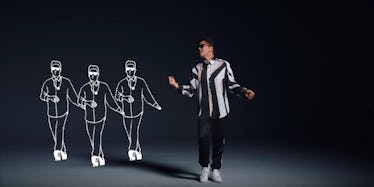 Bruno Mars Dropped A New Music Video And It's Better Than '24K Magic'
Youtube
Bruno Mars just dropped the music video for "That's What I Like," so strap in, you likely will not be listening to anything else for a few weeks.
Listen, Bruno Mars' one job at this point in his life is to make catchy choruses. That's it.
I'm sure he has duties to his family and friends, but as far as I'm concerned, Bruno's one goal in from 9 to 5, Monday through Friday, is to hit the beat lab and make me music I can run, happy-sob or party to.
That's all I ask.
He recently unveiled the music video for his latest track, a song about having sex by fires and owning very expensive jewelry called "That's What I Like."
The video is a major change of pace for Bruno Mars. From a visual perspective, his videos tend to be more over-the-top, large, colorful scenes featuring full background dancers and cars with hydraulics.
This video is the exact opposite of that. It's him in front of a green screen with the help of a post-production graphic designer.
In February, Bruno performed the song at the UK's Brit Awards.
After a small hiatus from cranking out new music, Bruno is clearly back and making an aggressive push to get back to his former spot on the relevancy charts.
The release of "24k Magic" was the first time he had released new music since 2012.
Back in December, Bruno stopped by "The Late Late Show With James Corden" to promote his resurgence by playing a little carpool karaoke.
During the drive, Corden pointed out,
It seems like you're in a great mood. I've got to say, if I was wearing that level of silk, I'd be happy too. If I dressed like that every day, I'd be over the moon. I've got no chance — no chance. If I wore that, I'd look like I'm having a breakdown.
Is 2017 the year of Bruno Mars?
Citations: We Can't Stop Watching Bruno Mars' Epic Dance Moves in "That's What I Like" Music Video (E!)