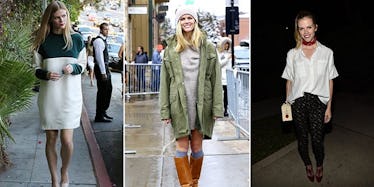 I Learned How To Style My Closet Like Brooklyn Decker's And You Can, Too
REX/Shutterstock
The first time I saw Brooklyn Decker was in the movie "Just Go With It" when she emerged from the water in a little yellow bikini and gave Adam Sandler and his doofy friend a heart attack the moment she stepped foot on land.
After watching that scene, it became my new life goal to have at least one thing in common with the gorgeous 29-year-old model.
Perhaps I'd never have the body or confidence of Brooklyn Decker, but there must be SOME OTHER WAY we could find common ground.
Does she like bread? 'Cause I do! Is black the color of her soul? Because it's mine!
It wasn't until I attended an event hosted by Brooklyn herself that I was able to see how similar we really are.
Brooklyn, who happens to be the Chief Design Officer of FINERY, partnered with founder/CEO Whitney Casey to create the world's first wardrobe operating system.
The ladies held a private discussion to chat about the FINERY platform and its patent-pending technology, and I was able to learn how these two brilliant women came together to create a life-changing website for women everywhere.
I mean, how many times have you looked in your closet and thought to yourself, "Ugh, I seriously have nothing to wear"?
Pretty much every day, right? I know I constantly go out and spend money on new clothes -- I even buy items that look IDENTICAL to things I already have in my closet.
Well, Whitney and Brooklyn were literally guardian angels sent from heaven. These ladies and their website helped me more than you'll ever know.
As their official website puts it, Whitney and Brooklyn "built a smarter, more efficient way to interact with your wardrobe."
It's basically an online closet where you can upload past purchases and organize them by color, price, style... really however you'd like.
FINERY's technology also links to over 10,000 brands and stores so users can collect and organize past, present and future purchases.
Brooklyn took us through the website and showed us how she likes to organize her own closet (hint: it's by color) and even told us about some special features she loves to play with, like the Wishlist, for example.
She explained the feature works "just like a Pinterest button" and allows you to add things to your Wishlist if you're interested in purchasing them in the future.
FINERY will even send you a notification if the items go on sale. It's also meant to help you decide if what you want goes with the clothes you already have.
Yup, say goodbye to all that wasted money! FINERY will become your wallet's new best friend.
From their presentation, I learned how to organize my closet just like Brooklyn Decker's and it was the best thing that's ever happened to me.
Instead of staring at my naked bod in the mirror for three hours while I contemplate what to wear, I just check my FINERY closet to see a list of all my possible outfits.
Here's the best part, though. FINERY is not only easy to use, but it's also completely free. You're essentially paying zero dollars to have a new, giant, organized closet, and honestly, I'm not sure what could be better than that.
I also had the chance to ask Whitney and Brooklyn a few questions about their fashion choices to inspire me to make my own.
When asked to name one item they can't live without, Whitney told me,
A good, functional backpack with a hint of fashion.
Check! I actually have one, so I guess I'm already cooler than I thought. Brookyln said,
Baggy denim cutoffs. I live in Austin -- you throw on a pair of cutoffs and a tee, and you're good to go anywhere.
Damn, that's stylish AF. I'll have to check out my FINERY closet and look through my denim options.
I also asked the ladies to share what they think is the perfect outfit to wear on a first date. They ended up actually giving me pretty good advice on what you should NOT wear on a date, which was more helpful. Whitney shared,
This is what you shouldn't wear... anything that can fall off into your food. Hair extensions, eyelashes and fake nails. You have enough to worry about on a first date, why add one more thing?
Good point, Whitney. Brooklyn added,
A friend told me you shouldn't show your cleavage or your feet on a first date. They said those are sexy areas that need to be earned. I followed that advice for one particular first date and ended up marrying the guy.
Damn, no flip flops or low-cut tops? Noted.
The last question I had for Whitney and Brooklyn was about the perfect outfit to wear for job interviews. The duo said,
The perfect interview outfit is the one that is already MADE. With a little planning on our new wardrobe operating system you can set your outfits well in advance of your interview so that day of, no matter what you are feeling, you can spend more time planning and prepping for your interview and less time worrying about what to wear.
WHAT CAN'T FINERY DO?
I'm serious, you guys, FINERY changed my life and made me have the coolest closet ever. Whitney and Brooklyn are two of the smartest, most well-spoken and admirable women I've ever had the privilege of meeting, so I encourage you to check out their creation.
Now BRB, gonna go look in my closet for some cut-off jeans and a nice tee. Can't wait to be your twin, Brooklyn!