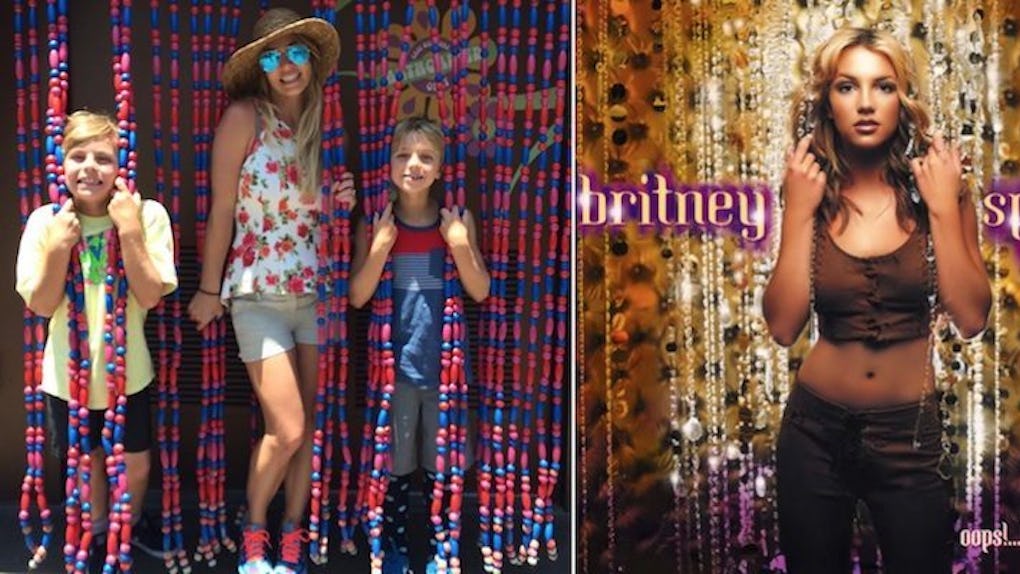 Instagram
Britney Spears And Her Sons Perfectly Recreated The 'Oops...' Cover
Oops! My two children and I did it again.
Britney Spears -- just like every other mom -- can't resist taking a cheesy photo when the opportunity presents itself.
The only difference is when your mom takes a cheesy photo, it's usually a reference to one of your family's inside jokes, but when Britney Spears takes a cheesy photo, it's a reference to the time when she was the world's biggest music icon.
The picture, which features Britney and her two sons, Jayden James and Sean Preston, is a cute reference to the Oops!...I Did It Again album cover.
The 33-year-old mother tagged the photo with the caption,
The boys and I doing our best #Oops album cover pose!
Over the holiday weekend, Spears also posted some other candid shots from the family's trip to Disneyland.
Seeing Britney Spears as a normal mom doing corny stuff is super cute. It feels off for some reason, but it's also still really cute.
I'm happy Britney got her life together, but this is kind of like seeing your stoner friend from high school get his or her sh*t together and become a pastor.
You're happy for how his or her life turned out, but also, something isn't quite right.
Anyway, Oops!...I Did It Again came out 15 years ago, so maybe we should stop concentrating on how weird it is to see Britney Spears as a normal mom and start concentrating on how old that makes us feel.
Citations: Britney Spears And Her Sons Recreate Her Oops I Did It Again Album Cover Photo (Huffington Post)