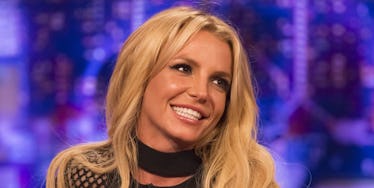 Turns Out, Britney Spears' London Crush Is A Hot Married Dad
REX/Shutterstock
The mystery of the hottie cyclist is solved, but sadly Britney Spears is still alone.
Last week, Brit posted a video to Instagram featuring a delicious man in a leather jacket riding a motorcycle through London traffic.
The pop icon could be heard in the background of the video calling the biker her "crush" and saying "very hot, very hot, very hot" in a fake British accent.
Now, her would-be lover has been revealed and, to the tragic dismay of Britney Jean, he's taken.
According to the London Evening Standard, his name is Phil Lupton.
Phil Lup for short.
HIS NAME IS PHILLIP, AND IT'S PHIL LUP, PEOPLE. Britney has amazing taste.
Phil hails from Kingston, has two daughters, Millie and Daisy, and is married to a woman name Britney Spe — just kidding. Her name is Louise.
Following Brit's video and the attention it brought him, the 46-year-old told The Sun his wife "can't believe the fuss it's made and finds it quite funny."
Phil's keeping it modest, despite the fleeting moments in which he could have become the First Man of the United States of Sexy Pop Songs.
He said,
She couldn't see me properly because I had a helmet and glasses on... I'm under no illusion it was probably the motorbike and the image she liked, rather than me…
Oh, Phil. In the words of every man I've never stopped to meet on the street: Take a compliment, damn.
Despite having a name that sounds like Kate Upton's chain of full-service gas stations, Phil is a man whose children can look at him with pride in their eyes and say, "Hey. That's my dad, and Britney Spears would totally hit it."
The Hearst Media employee said,
The kids love it and are enjoying the spotlight after their dad got picked out. They've been trying to prove to their friends it's really me.
It really is you, Phil. Mr. Spears 2016.
Citations: Britney Spears' mystery London motorbike crush finally revealed (London Evening Standard)