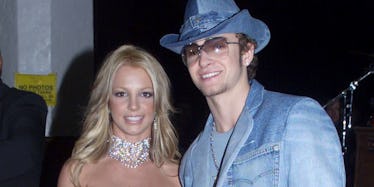 Britney and Justin's Matching Denim Outfits Turn 15 Years Old At The AMAs
REUTERS
Oh, how time flies!
Believe it or not, it's been FIFTEEN whole years since Britney Spears and Justin Timberlake graced the red carpet at the 2001 American Music Awards. Wipe your tears away, loser. You're not the only one who feels really fucking old right now.
Britney and Justin, who were madly in love at the time, showed the world exactly what it meant to be pop prince and princess as they strolled down the red carpet flaunting their iconic denim outfits.
Britney, who was just 19 years old back then, silenced critics by confidently sporting the unthinkable to such a prestigious event like the AMAs -- a strapless denim gown, a cleavage-enhancing bustier bodice and a sparkly rhinestone-studded choker that could blind even the most fine-sighted.
As for Justin Timberlake, who was 20 years old, he wore a denim blazer, denim jeans, aviator sunglasses and a denim cowboy hat. Let's just say he raised the bar for what men should be wearing to fancy award shows.
Britney Spears and Justin Timberlake's famous matching denim outfits will turn 15 years old at the 2016 American Music Awards this Sunday.
There are high-schoolers younger than these outfits!
And by the way, for all of you uncultured folks out there, this particular type of denim outfit is called the Canadian tuxedo.
Hey, it's important that you know these things. You never know when you'll need a killer outfit idea that you're 100% sure NO ONE will ever copy.
Well, maybe not "no one." After all, Britney and Justin's iconic AMAs getup inspired Katy Perry and Riff Raff to recreate the denim magic at the 2014 MTV Video Music Awards.
Remember this?
We can only hope there's a celebrity couple out there with the balls to recreate the masterpiece of a matching outfit Britney and Justin have blessed us with at the AMAs this year. Still, no one will ever do it better.
Wacky denim outfits, happy fifteenth birthday! We're all old and washed up like that denim. This is truly a bittersweet moment.
Only six more years to go before you can drink... bleach?
Don't miss the 2016 American Music Awards, hosted by Gigi Hadid and Jay Pharoah, live on ABC Sunday, November 20 at 8 pm EST.
Citations: Happy 15th Anniversary to Britney Spears and Justin Timberlake's Double Denim Outfits (US Magazine)