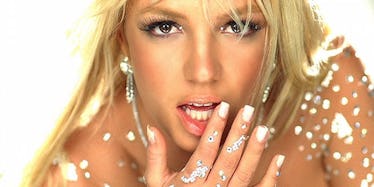 Britney Spears Has No Idea Where The Phrase 'It's Britney, B*tch' Came From
YouTube
What if I told you that Britney Spears is not too sure where the phrase "it's Britney, bitch" originates from?
Because it's true: Britney totally forgot how the iconic catchphrase came to be.
The 35-year-old star recently sat down for an interview with 99.7 Now's Fernando and Greg in which she revealed that she's clueless when it comes to pinpointing the origin of "it's Britney, bitch."
During the December 5 interview, Britney Spears admitted,
I really don't remember... I think we were in the studio, and me and [will.i.am] were just playing and it came out.
Well, the good news is she said "I think" and avoided stating that as fact because boy is she SO wrong.
Sorry, Britney, but everyone knows where that phrase came from -- just ask producer Danja and singer Keri Hilson.
Britney had worked with Danja and Hilson on 2007's "Gimme More" while Will.i.am and Britney first collaborated in 2012 for "Scream & Shout."
That means, according to Britney's scattered memory, "it's Britney, bitch" was originally given to us pretty recently. Luckily, I'm here to say NOPE.
However, can we really blame Britney for not knowing a quirky little fun fact about herself such as this one? The woman was going through the toughest time of her life the same year "Gimme More" took over the airwaves.
At the peak of the hit record's success, Spears had temporarily lost custody of her sons Sean and Jayden after a heated divorce from ex-husband Kevin Federline.
Now it makes sense as to why Britney's memory of the "old days" is a bit cloudy!
Back in September, Britney appeared on British talk show "Lorraine," revealing,
My 20s were horrible! [Being] in my teens was fun, but I like my 30s… You know who you really are.
Would you make an effort to hold on to memories from your dark days? I wouldn't. And besides, Ms. Spears (AKA pop royalty) can do whatever she pleases... It's Britney, bitch!
Citations: Britney Spears: 'I Really Don't Remember' What 'It's Britney, Bitch!' Is From (US Magazine)