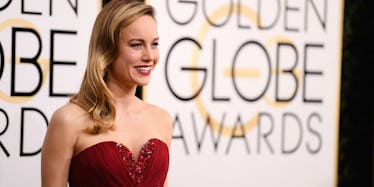 Brie Larson's Reaction To Casey Affleck Winning A Golden Globe Was All Of Us
REX/Shutterstock
The internet is patting Brie Larson on the back for her response to Casey Affleck's Golden Globes win.
For all of its success, "Manchester by The Sea" has had an equal amount of negative publicity, mainly stemming from Casey Affleck. The movie's star was involved in two sexual misconduct and harassment lawsuits back in 2010.
Both Polish cinematographer Magdalena Górka and Canadian film producer Amanda White sued Affleck for his behavior while working on "I'm Still Here," which was directed by Casey and starred Joaquin Phoenix.
While the accusations never go as far as rape or any major physical assault, they do outline a history of questionable and outright creepy behavior.
For instance, according to Górka, while working on "I'm Still Here" the cast stayed at Phoenix's apartment. While there, she was offered his bedroom and he said he would sleep on the couch.
In the middle of the night she woke up and Affleck was in her bed. According to court documents he,
Curled up next to her in the bed wearing only his underwear and a T-shirt. He had his arm around her, was caressing her back, his face was within inches of hers and his breath reeked of alcohol.
Last night, Affleck took home best actor in a drama honors at the Golden Globes. His award just happened to be called by Brie Larson, a famous women's rights advocate and star of the movie "Room," which has strong themes dealing with sexual assault and abuse.
Here was her reaction from the moment:
Many are applauding the way Larson handled the exchange.
The internet is rightfully confused on why Affleck was even considered for an award given his history.
What made matters worse was during his acceptance speech, Affleck seemingly referenced the sexual harassment allegations, saying,
It's my kids who give me permission to do this because they have the character to keep at bay all the noise that sometimes surrounds people who live publicly.
Larson has not yet released a statement on her exchange with Affleck. Both lawsuits above were settled out of court.