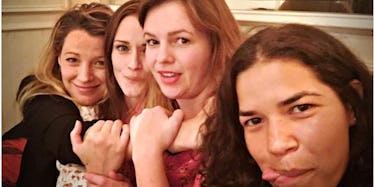 Blake Lively Had A 'Sisterhood' Reunion On NYE, So 2016 Wasn't All Bad
Instagram
If you miraculously fit into the same pair of jeans as your best buds, there's no doubt you're destined for eternal friendship — even if those jeans were something you wore on-screen during a movie.
Back in high school, I devoured Ann Brashares' "Sisterhood of the Traveling Pants" series for its love drama, emotional turmoil and of course, its genuine message about friendship.
I wanted to murder Kostos on Lena's behalf, travel with the girls as they journeyed across the country (and world), and hang out with Tibby and her NYU film friends... but definitely not go to soccer camp like Bridget (I was never an athlete).
So naturally, when the stories were recreated for the big screen and featured some of my favorite actresses, I had to see the films, too.
And I did — thousands of times. "The Pants" — the way my mom refers to the YA saga — was part of my teenage identity.
So, 10+ years later, it's sweet to see that the actresses who played the roles of Lena, Tibby, Bridget and Carmen actually remained close IRL, too. Those must be some powerful fictional jeans!
Blake Lively (Bridget) recently shared a photo on Instagram of a mini-New Year's Eve celebration where she's hanging out with Amber Tamblyn (Tibby) while on FaceTime with America Ferrera (Carmen).
She captioned the pic with:
This year has taught us a lot. But it's reminded us to practice something we've always known... "Love your pals. Love yourself". Happy 2017
Aww!
For those of you who are freaking out that one "Pants" member remains MIA, fear not. Alexis Bledel (Rory... I mean, LENA) is still involved with the girl group.
Over the summer, the ladies were together and Lively took to Instagram to share the #sisterhusbands pic she posted with her jean-wearing BFFs.
Again, cue the awws.
In a time when celebrity feuds seem to dominate the scene (ahem, Taylor Swift, we're lookin' at you, girlfriend) and girl squads seem so premeditated (you again, Swifty), it's nice to see that the main theme in Brashares' books translated well off-screen for her "real-life" sisters.
Citations: Blake Lively Has Sweet Reunion With Her Sisterhood of the Traveling Pants Co-Stars on New Year's Eve (E!), Blake Lively & Sisterhood of the Traveling Pants Co-Stars Have Another Sweet Reunion (E!)