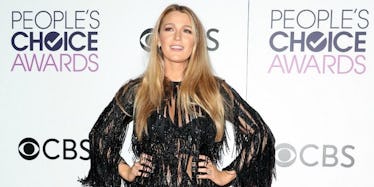 Blake Lively's Thoughts On Her Body After Baby Are What We All Need To Hear
REX/Shutterstock
Actress Blake Lively is arguably a perfect human being.
The 29-year-old gave birth to her second child with actor Ryan Reynolds just five months ago, but she's reportedly feeling great about her health and her post-baby body.
Lively attended the L'Oréal Paris "Galentine's Day" event Monday night, which she reportedly planned herself, and while in attendance, she chatted with E! News' Zanna Roberts Rassi about a variety of topics, including her positive thoughts on her post-baby body.
Blake Lively, who attended the event with her sister, Robyn Lively, talked about how pregnancy has changed her body, of course, but also how it allowed her to really recognize the full worth of her physical self.
Speaking about focusing on her body after giving birth to her second child, Lively said,
It's all a process. You know after the second kid it's really different. So this is not my normal body, but I like it.
The 29-year-old mom continued,
I'm learning to love my body in every iteration and I think that's hard for women, and so I learned a lot.
Blake Lively really opened up about women being "aware" of their own self worth, and I hope her words resonate with not just women, but everyone who is less than comfortable in their own skin.
She said,
This is the first time in my lifetime where I have been aware of a women's worth being questioned. I know it happens all the time everywhere, but I never felt it. It's made me so much more aware and empathetic to the challenges that women face always, because I've been really fortunate. I think it's just so important that we come together and build each other up -- and that we remind women of their value. It's really beautiful to see women come together. It's something I've never seen.
Speaking on the L'Oréal Paris "Galentine's Day" event, Lively said,
L'Oréal told me this idea they had to have a Valentine's event with your gals -- your best girlfriends. I thought, 'Right now, more than ever, it's so great that women are coming together and supporting each other and building each other up.' I got a little too involved. I said, 'I don't really just want to show up. I sort of want to plan it.' It's a lot more fun to plan a party when it's not on your dime. I changed the party a bit.
Blake Lively continues to be a perfect human being.
Citations: Blake Lively Opens Up About ''Learning to Love'' Her Body After Two Kids (E! News)