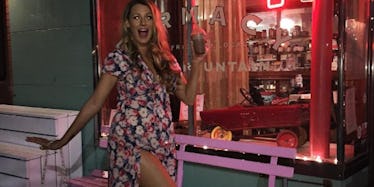 Blake Lively Looks Amazing In New Instagram Days After Giving Birth
Instagram
Blake Lively and Ryan Reynolds welcomed their second child into the world last week -- but you wouldn't know it from this photo.
The mom and all-round big screen badass was pictured with a completely flat stomach while posing with a good friend on her wedding day.
Yeah, it looks like she was never carrying a tiny human around for nine months, and mini Lively is just a conspiracy.
The Instagram pic went up on Sunday with the caption,
Most beautiful bride on the planet. And the best friend I could ask for. @jessicarose617 thank you for being EVERYTHING. I love you.
The couple have kept details about their newborn super secret, which is frustrating to say the least because everyone in the world wants to know the sex and name of this adorable spawn who's definitely going to grow up to be the best person ever x 100.
They kept the pregnancy pretty under wraps until Blake was spotted sporting a little bump while filming her new movie "The Shallows."
Eventually, at the end of August, Ryan admitted his partner was "extraordinarily pregnant."
Blake also got real about what it was like to star in a movie after having grown a person inside of her. She said,
The struggle is that I am doing a movie in a bikini eight months after having a baby and there is a level of insecurity and vanity that comes with that. You don't want to be the person in the magazines that they are saying 'ugh, look at her' rather than 'wow, look at her.' That's a shame because there shouldn't be that negative 'ugh' after someone has a baby.
The couple had their first child, James, in December 2014. So congrats on the little bro or sis, James!