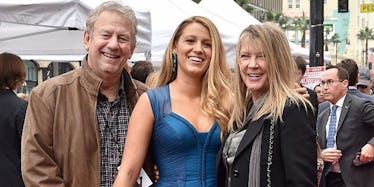 Blake Lively And Other Celebrities You Didn't Realize Have Famous Parents
Axelle/Bauer-Griffin/Getty Images
When it comes to getting famous, you either make it on your own, or you're born into the industry thanks to dear old mom and dad.
It should come as a surprise to absolutely no one that there are a ton of celebrities who have really famous parents. And it's always super interesting to see if they end up more or less famous than their moms and dads.
So here's a list of celebrities who have famous parents. I'll let you decide which of them is a bigger celebrity than the other:
Billie Lourd
The Scream Queens actress is the only child of the iconic Carrie Fisher, aka Princess Leia in the Star Wars franchise. The earmuffs she wore on the show were an homage to the famous Princess Leia hairdo.
What's more, she's also the granddaughter of Debbie Reynolds of Singin' in the Rain and Halloweentown.
Fisher and Reynolds both passed away in December 2016, just one day apart. Fisher died of a heart attack, and Reynolds died the next day, reportedly of a stroke. Lourd posted a heartbreaking tribute to her mother and grandmother about a week after their passing.
Carrie Fisher
Like I said before, Carrie Fisher is the daughter of Debbie Reynolds and Eddie Fisher. Yup, Princess Leia is Grandma Aggie's daughter.
Reynolds shot to fame when she starred in Singin' In The Rain opposite Gene Kelly, and Eddie Fisher was a famous singer.
Blake Lively
Blake Lively's dad is actor Ernie Lively, who was in The Dukes of Hazzard in the early '70s and '80s. Her mother, Elaine, is also an actress. She's known for appearing in Return to Zork in 1993. She married Ernie in 1979, but the interesting thing here is that he actually took her name.
Yup, Elaine was married once before to a man named Ronnie Lively, whose name she took. When she married Ernie, he took the Lively name. His name was originally Ernie Brown.
Ernie also played Blake's dad in The Sisterhood of the Traveling Pants. Keeping it all in the family, I guess.
Zoë Kravitz
The Big Little Lies actress is the daughter of Lisa Bonet, aka Denise Huxtable on The Cosby Show, and singer Lenny Kravitz.
Bonet is now married to, and has two young children with, Jason Momoa of Game of Thrones and the upcoming Justice League. Yeah, Zoë Kravitz's stepdad is literally Khal Drogo.
Lenny Kravitz
Lenny Kravitz might be a famous dad himself, but he's the son of famous parents, too.
His mother is Roxie Roker, who played Helen Willis on the CBS sitcom The Jeffersons from 1975 to 1985. She died in December 1995. Lenny's father was NBC news producer Sy Kravtiz, who died in 2005.
Miley Cyrus
We all knew this one. Miley Cyrus' dad, Billy Ray Cyrus, is her real-life dad and was her onscreen dad in Hannah Montana. Before Miley was famous, he was a well-known country singer.
Miley's godmother also happens to be Dolly Parton. Yeah, Dolly freaking Parton.
Kate Hudson
Kate Hudson's mama is none other than Goldie Hawn! Her dad, Bill Hudson, is a famous musician and actor best known for being in the band the Hudson Brothers.
Goldie has been with her Overboard co-star Kurt Russell since 1983. They have one son together, Wyatt Russell, who is also an actor and a former professional hockey player. Kate has a brother, Oliver Hudson, who you know from Nashville and Scream Queens, as well as three half-siblings: Zacharay, Lalania, and Emily Hudson.
Ben Stiller
Ben Stiller's dad is King of Queens actor Jerry Stiller. You can see them together in Zoolander, where Jerry plays Derek Zoolander's agent.
Rashida Jones
The Parks and Recreation actress is the daughter of Quincy Jones, one of the most famous music producers ever. Her mother is actress Peggy Lipton of Twin Peaks fame.
Jennifer Aniston
Jennifer Aniston's dad, John Aniston, is an Emmy-nominated actor who plays Victor Kiriakis on Days of Our Lives, a role he's been playing since 1985.
Dakota Johnson
Both of Dakota Johnson's parents are famous. Her mother is Melanie Griffith of Working Girl, and her father is Don Johnson of Miami Vice.
Griffith is the daughter of Tippi Hendren, the actress from Alfred Hitchcock's infamous film The Birds.
Jaden and Willow Smith
We all know this one, but Jaden and Willow Smith are the children of Will Smith and Jada Pinkett-Smith. Will also has a son named Trey from a previous relationship.
Jaden and Will have been in three movies together: The Pursuit of Happyness, After Earth, and Men in Black II.
Alexander and Bill Skarsgård
Actors run in this family. Alexander Skarsgård, of Big Little Lies and True Blood fame, and Bill Skarsgård, who plays Pennywise in the upcoming It remake, are the sons of Stellan Skarsgård. Stellan was in The Avengers, Pirates of the Caribbean, and Good Will Hunting.
But the only Stellan Skarsgård movie that matters is Mama Mia! (Don't @ me.)
Lena Dunham
Lena Dunham's dad, Carroll Dunham, isn't thatttttt famous now, but he was a critically renowned artist in the '80s. Lena has gotten a lot of flack over the years because people are of the opinion that the only reason she got Girls picked up by HBO was because of her family connections to the industry.
But like, the same goes for literally everyone on this list.
Jordin Sparks
Jordin Sparks is the daughter of former NFL player Phillippi Sparks, who played for the Giants and the Cowboys before retiring in 2001.
Jordin's mom, Jodi Jackson, got remarried in 2014 to a corporate firefighter. Jordin told People watching her mother walk down the aisle was a "proud moment" for her.
Emma Roberts
Emma Roberts is the daughter of actor Eric Roberts, who's sister is – you guessed it – Julia Roberts. Emma was raised by her mother, Kelly Cunningham, but she remained close with her Aunt Julia, who eventually helped her kick off her acting career.
You've seen Emma's father, Eric, in The Dark Knight, The Expendables, The Cable Guy, and Inherent Vice.
Gwyneth Paltrow
Gwyneth Paltrow's mom is a well-known stage actor, but you probably know her from Meet The Parents, where she co-starred alongside Robert DeNiro.
Her ex-husband/Gwyneth's dad, Bruce Paltrow, is a TV and film producer.
Lily Collins
Lily Collins is the daughter of singer Phil Collins. You know, the guy who sings the epic "In The Air Tonight" and literally all of the music in Tarzan.
Allison Williams
You know Allison Williams from Get Out and Girls, but did you know her dad is the famous NBC News anchor Brian Williams? YA DO NOW!
Liv Tyler
Liv Tyler didn't know she had a famous dad until she was eight years old. She told Hello magazine she was at an Aerosmith concert when she saw who she now knows is her half-sister, Mia, standing on the side of the stage and said, "I was literally like looking at my twin."
She continued, "She looked exactly like me, and I looked at my mum and she had tears in her eyes and I kind of put it all together." She now has a great relationship with Steven, although she still considers the man who helped raise her to be her father.
Kiefer Sutherland
JACK BAUER'S DAD LITERALLY IS PRESIDENT SNOW, AND NOW YOUR MIND IS BLOWN.