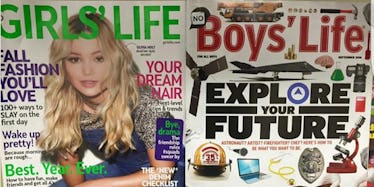 Amy Schumer And Blake Lively Slam 'Girls' Life' For Sexist Magazine Cover
Instagram
If you didn't see the recent issues of "Girls' Life" and "Boys' Life" magazines next to each other, then you might never have noticed the ridiculously sexist differences between the two covers.
In short, people are pissed the cover of "Girls' Life" is basically all about beauty and fashion tips, while "Boys' Life" encourages young men to, you know, dream and think about the future.
You can count Amy Schumer and Blake Lively among those who think these two magazine covers just sent feminism back about 50 years in this country.
Schumer captioned the above Instagram post with a simple yet poignant message:
No
Blake Lively caught wind of Amy Schumer's post and reposted it, saying,
Wow. @amyschumer I second that emotion. Ladies, let's not let this happen anymore...
I mean, what year is this? You almost expect the magazine publishers to speak up and say this was a bad joke or a stab at pointing out the gender inequalities that still very much exist in this country and around the world.
However, Refinery29 asked the publisher and founding editor of "Girls' Life" about the cover, and she said she hoped people read the actual articles in the magazine prior to drawing an opinion similar to that of Blake Lively and Amy Schumer.
Speaking with Refinery29, Karen Bokram said,
Are we more than lip gloss and clothes? Of course. It's OK to like lip gloss or be interested in fashion... I don't know how [the problem] became 'either you like lip gloss and clothes or you like being an astronaut.'
The "Girls' Life" magazine cover in question originally gained attention after a Facebook post by Shoshanna Keats-Jaskoll, who was outraged about the message she thought was being sent to young women.
In order to ensure the success of this great country, I think we can all agree we need young men AND young women to explore and focus on their futures.
Citations: Blake Lively and Amy Schumer call out 'Girls' Life' magazine (Mashable)