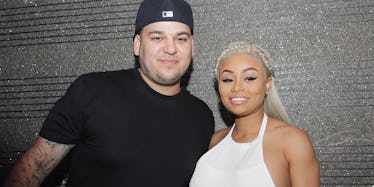 Blac Chyna Says She'd Still Be A Stripper If She Wasn't With Rob Kardashian
REX/Shutterstock
Have you ever wondered what Blac Chyna would be doing if she had never become famous for dating Tyga and Rob Kardashian?
You're not alone -- the thought has crossed her mind, too.
The 28-year-old former dancer sat down for an epic Facebook Live video with Rob Kardashian in which the engaged couple answered a slew of questions fans have been dying to ask.
Chyna, who used to work at a popular strip club in Miami called King of Diamonds, was asked what she would be doing if she wasn't famous.
Chyna responded,
If I wasn't famous. Oh God, Rob. I don't know. I would probably be working in the strip club. I'm just kidding.
Blac Chyna went on to reveal that she doesn't think she has many other talents outside of stripping, despite owning her own beauty bar and cosmetics company based in Los Angeles.
She added,
I would probably be still in the strip club. I'm just keeping it real. I can't do nothing else.
Well, damn, Chyna. There's NOTHING else you're good at besides twerking and counting an endless flow of Washingtons?!
For Blac Chyna to admit that she'd likely be a stripper if she weren't famous, she has to be pretty confident that she's never going back to her old ways.
If she actually does revisit her past, however, all she'd have to do is call up Drake and ask him to shout her out in one of his catchy records.
It turns out Drake's shout out to Blac Chyna during his hit single "Miss Me" back in 2010 is what first sparked the birth of Blac Chyna in the entertainment world.
From there, Blac Chyna went on to star in multiple music videos including Kanye West's "Monster" where she sported a pink wig and played Nicki Minaj's stunt double.
It was only shortly after her hip-hop shout-outs and music video cameos that Blac Chyna then met Tyga at one of Chris Brown's after parties and landed a gig in the 26-year-old rapper's "Rack City" video in 2011.
Being in close proximity, Chyna and Tyga hit it off well enough to have a baby together and even get engaged.
Kind in mind, this was just before Tyga dumped Chyna in 2014, which ultimately led to him dating Kylie Jenner, the youngest sister within the Kardashian-Jenner squad.
Fast-forward to January 2016 and the ex-stripper-video vixen-makeup artist hybrid is engaged to Rob Kardashian with a baby on the way.
What a time to be alive. Thanks, Drake.
Man, I HAVE to wonder -- what does Rob Kardashian think about Chyna's road to fame and what would he do if his fiancée had to go back to the strip club to support herself?
Rob admitted,
That's all right. And I would probably be in the strip club also. I would definitely go and find Chyna and go to the strip club. Eat some food. They got the best food in the strip club.
OK, Rob. At least we know you'd be supportive.
Catch the couple's new docu-series "Rob & Chyna" on E!, which premieres September 11 at 9pm E.T.
Citations: Blac Chyna: If I Wasn't Famous, 'I Would Probably Still Be In the Strip Club' (US Weekly)