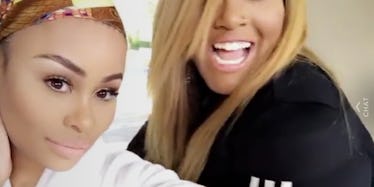 Blac Chyna Snapchatted Behind-The-Scenes Of A Makeup Tutorial For Kim's App
Snapchat
Guess who's going to supply Kim Kardashian's loyal following with new content?
No, seriously, take a guess...
If you guessed North West, then you're wrong. She's still too young to coordinate her own photoshoots. However, if you guessed Blac Chyna, you ARE... correct!
The 28-year-old reality star took to Instagram to share a behind-the-scenes look at a project she's working on for Kim Kardashian's mobile app and website.
The post, which was originally posted on Blac Chyna's Snapchat, features the caption, "filming for Kim's app."
Despite the fact that Kim Kardashian is taking time away from the public eye as she gets herself together following a tragic robbery incident in Paris earlier this month, fans are in for a treat thanks to Chyna.
Here's the post.
So, what's kind of content are Kim's loyal fans in store for? It turns out Blac Chyna's working on a must-see makeup tutorial for are you beauty hack freaks out there.
Earlier this week, Kim's assistant Steph Shep posted a handwritten letter to fans on her website.
The letter was shared to update fans on what's next for Kim's website while Kim takes a break.
The note read,
So, you may have noticed we haven't updated the app in a couple weeks. Keeks is taking some much needed time off. But not to worry cause we've called upon Kim's closest friends, fam & yours truly to serve up some exclusives. Stay tuned for new posts and app takeovers!
And by "Kim's closest friends" and family, Steph was clearly referring to Blac Chyna -- and that's not a bad thing. After all, who better than the newest member of the Kardashian squad than Chyna?!
She seems to be on a ~roll~ after buying herself this shiny new Rolls-Royce.
There's been no word on whether or not Rob Kardashian will be sharing some much-needed sock advice on Kim's app, but I wouldn't count it out just yet...