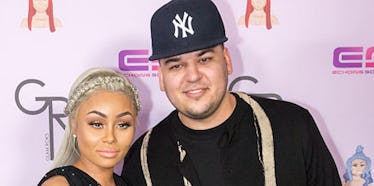 Blac Chyna's New Man Tweets Cryptic Message Following Drama With Rob Kardashian
Greg Doherty/Getty Images
And the drama continues! On July 6, rapper Rarri True posted photos in bed with a topless Blac Chyna following Rob Kardashian's never-ending Instagram rant about his failed relationship with Chyna.
Elite Daily reached out to Rarri True's team for comment, but did not hear back by time of publication.
In the photos below, you can see Chyna and True in bed together, shirtless, showing off their jewelry. True captioned the image below,
That 250k In Jewelry Ain't mean Shit to RARRI Rep Yo set Lesson Learned Daniel Son
He added a second photo with the caption, "SMILE" and a smiling emoji.
These new photos come just a day after Rob Kardashian went on an insane social media rant, posting naked photos of Blac Chyna without her consent, and claiming she allegedly cheated on him, used him for money, abused drugs and alcohol, and was an unfit mother.
Blac Chyna's ex-fiance also claimed he bought Chyna $250,000 worth of jewelry, which True is most-likely referencing in the caption of his photo.
Elite Daily reached out to Rob Kardashian's and Blac Chyna's teams for comment on the social media postings, but did not hear back by time of publication.
Now, Blac Chyna's alleged new man is speaking out... sort of. After the photos were posted to Instagram, Rarri True went to Twitter to share a cryptic message with fans.
The tweet, posted at 2:34 p.m. ET, reads,
Don't listen to the lies, I swear they all lies
Of course, it's not clear what exactly Rarri True is referencing in his tweet. Is he saying his rumored fling with Blac Chyna is a lie? Is Blac Chyna's drama with Rob Kardashian not real? Are these just coincidental song lyrics?
Rob Kardashian did originally add this photo of Rarri True to Instagram, before his account got suspended:
Therefore, it is fair for fans to think something might be going on here. I guess Rob and Chyna's followers will also be keeping tabs on True's social media profile to put the clues together.