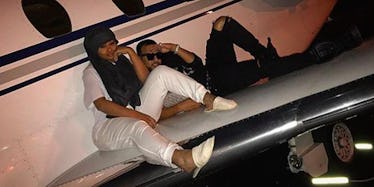 Blac Chyna Is Hanging Out With Khloé K's Ex And The Internet Is Not Having It
Instagram
Blac Chyna is America's best shit-stirrer, and it's amazing.
You can hate on Blac Chyna all you want, but you have to hand it to her: That girl is a self-promotional wizard who knows how to cause massive and deep-cutting drama.
She's built her career around it, and this past year she took that talent to the next level.
She successfully dug herself deep into the Kardashian family, managed to get her own reality TV show in the process and has grown her brand's reach by approximately 1 billion percent.
After a year involved in the world's most publicly messy almost-marriage, Angela could potentially be looking to start 2017 off by stirring the pot one more quick and furious time.
Chyna spent the weekend casually hanging out with Khloé's ex French Montana, a big ol'd no-no in the Kardashian universe.
Here is a pic that French posted of the two casually hanging out on the wing of an airplane.
The comment section of Instagram shows fans are not OK with this friendship.
Just to give you a recap, this isn't the first time Chyna has taken a dip in some semi-incestuous Kardashian relationship gumbo.
The whole reason she's involved with the family is because she and Tyga used to be friends with the family back when they were engaged.
After they broke up, Tyga started dating Kylie Jenner right before Chyna started her thing with Rob Kardashian.
You can check out this dumpster truck of a family tree here.
The photo of French and Chyna hanging out was taken on the set of a music video shoot. Though it isn't 100 percent clear where the shoot was, the group was spotted partying in Vegas over the weekend.
Speaking of "weekend" stuff, The Weeknd was at the shoot. (Sorry for the world's laziest semi-pun.)
If this is the kind of shady business Chyna is planning on pulling in 2017, let me go on the record saying I am ALL FRIGGIN' FOR IT.
Citations: Blac Chyna Hangs With Khloe Kardashians Ex French Montana on Music Video Set (Entertainment Tonight)