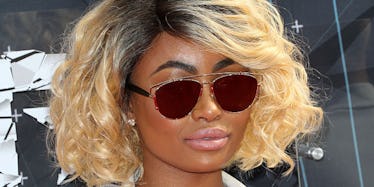 All The Times Blac Chyna Was The Queen Of Clapbacks On Social Media
Frederick M. Brown/Getty Images for BET
It has been a hell of a week for Rob Kardashian's ex-partner and baby mama, Blac Chyna.
On July 5, Kardashian unleashed a raging fury onto his Instagram account, posting an outrageous series of nude photos of Chyna and a ton of unsolicited commentary. In it, Kardashian included wild allegations about drug and alcohol abuse, Chyna using him for money, and even threatened to never let her see their daughter, Dream, again.
It was uncomfortable to say the very, very, very, least. (So much "the least" it's embarrassing.)
However, if there is one girl who can bounce back, trust me, it's Chyna.
Here are some of our favorite Blac Chyna clapbacks:
Her Recent Trip To The Hair Salon
"Oh, what's that? My ex fiancé just attempted to torch my whole world and watch it burn? Boring. I'm going to go get my hair done."
That's what we think Blac Chyna must have said to herself after this week of mayhem. Just today, she posted a series of photos and videos of her new, baller rainbow hair, giving Rob a loud and clear, "Unicorn hair, don't care."
Her Recent Topless Photos With Another Man
Oh right, and then there was also the whole topless photo immediately following Rob's revenge porn rant, showing the world there is one person and one person only in control of Blac Chyna's body: Blac Chyna.
To heighten the clapback even further, it was taken specifically with the man Rob called out in his rant.
User ferraritru3, or Rapper Rarri True, was the one who actually posted the photo with the caption,
That 250k In Jewelry Ain't mean Sh*t to RARRI. Rep Yo set. Lesson Learned Daniel Son.
Whoever Daniel is.
That Time She Reminded Us All That Pregnant Women Are Going To Look Like Pregnant Women
After a photo circulated of pregnant Chyna rocking a jumper, internet trolls crawled out from under their bridges and bashed her body.
Of course, Chyna reminded us all how biology works on Instagram (OK, OK, so not technically a snap, but it was too good to ignore!): that when a woman gets pregnant, a literal baby grows inside of her. Shocker.
She posted the following message on Instagram in response:
To all you people out here with negative comments and insecure words (obviously because you have nothing else to do but criticize the next) I AM HAVING A BABY. Exactly what do you expect to see?! If I walked out in makeup and heels everyday to be beautiful to your means I WOULD BE MISERABLE AND UNHAPPY which are two vibes I refuse to transfer to my little one.
When She Posed With Kylie And Dropped The Mic Once And For All
Talk about a mindf*ck!
When Kardashian and Chyna first got together, the world was prepped for some serious, serious drama. That's because at the time, Rob's little sister Kylie Jenner was dating Chyna's ex, Tyga. (It was like, a whole thing you guys.)
Still, just when the universe think Chyna's going to punch left and jab right, she goes and posts a lovely photo with Kylie.
It was so weird. (And I loved it so much.)
When She Took Back All The Nasty Things People Say About Her
Chyna and friend Amber Rose stepped out in some seriously inspiring attire at the 2015 VMA Awards, rocking outfits that were painted with all the horrible names people call them.
Chyna posted a photo of the pair with the caption, "You could never check me."
You're right. And we won't.
You have to give it to her, Blac Chyna knows who she is, which is a lot more than most of us can say.
I hope that both she and Rob get whatever support they need to see the other side, but know in the meantime Chyna is out there slaying.