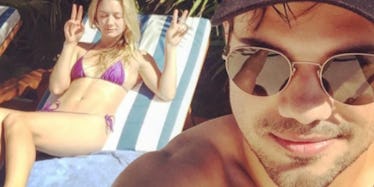 Billie Lourd And Rumored Boyfriend Taylor Lautner Go On Romantic Getaway
Instagram
If you're a big fan of "Scream Queens," it probably wasn't too surprising to learn Billie Lourd and Taylor Lautner have been hooking up.
I personally don't watch the show or follow the actress and actor on Instagram, so the news came as a shock.
However, the more I stalk Billie Lourd and Taylor Lautner's relationship, the more obvious their chemistry becomes to me.
I mean, LOOK AT THEM. THEY ARE SO HOT AND IN LOVE. Chanel #3 and Dr. Cassidy are goals, yo.
On Friday, January 13, the lovebirds took their love off-screen and went on a romantic getaway to Cabo.
Lautner posted a photo of him and his lady lounging in chairs and soaking up the sun.
Just two weeks ago, Billie Lourd tragically lost her mother, Carrie Fisher, and her grandmother, Debbie Reynolds.
Taylor Lautner became Lourd's main support system following the deaths of her two family members.
A source close to Taylor told People magazine,
He's a great guy and has really been there for Billie.
He wrote,
This girl is one of the strongest, most fearless individuals I've ever met. Absolutely beautiful inside and out. I'm lucky to know you @praisethelourd
Taylor Lautner and Billie Lourd were first spotted getting intimate on December 4 at a party for the VH1 show in West Hollywood.
At the party, Taylor and Billie's fellow "Scream Queens" co-star Keke Palmer posted a Snapchat of the couple making out.
Yup, her reaction was all of us.
Since then, Taylor and Billie have made their relationship public to the world. They have no problem packin' on the PDA.
D'awwwww, aren't they cute?! I'm feeling this. I'm into it.
Congrats on finding love, you two! Now, can you help the rest of us?
Citations: Billie Lourd And Taylor Lautner (People), Billie Lourd And Taylor Lautner on Vacation (Daily Mail)