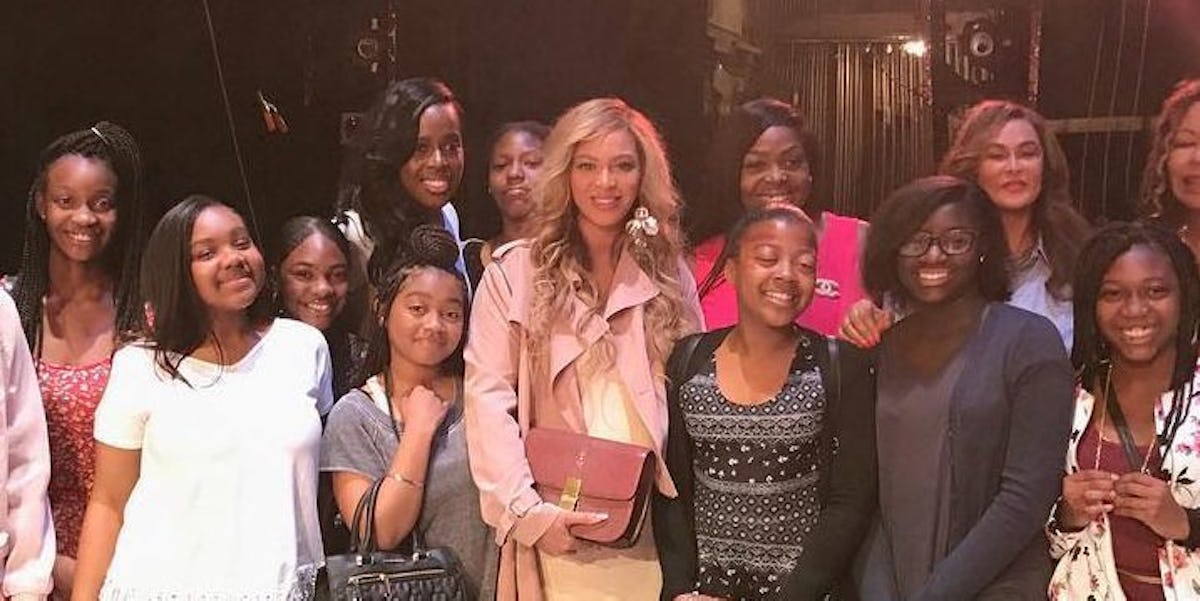 Pregnant Beyoncé Surprises LA Students' Performance In Adorable Video
Instagram
It's family first when it comes to Beyoncé's busy, superstar lifestyle.
On Saturday, the 35-year-old singer set some time aside to support her mother Tina at the Alvin Ailey American Dance Theater show at the WACO Theater Center in Los Angeles.
According to DailyMail.com, Tina Knowles works with a mentorship group "founded in conjunction with husband Richard Lawson's non-profit venture," and a pregnant Beyoncé showed up to surprise the group over the weekend.
ALL HAIL...
Tina shared a group photo of Queen Bey and the students, captioned,
Backstage after the Alvin Ailey dancers performance, it was magnificent. With my beautiful Tina's Angels and with a few of the mentors. My very gracious daughter who met the girls and spent some time with them and made their day!
Here's the full photo. Beyoncé's pregnant glow just adds to her flawlessness.
It's OK if you're jealous... We're all a little jealous. I mean, this is Beyoncé we're talking about, people. Imagine BEYONCÉ surprising you at work or school. I probably wouldn't be able even to pose for a photo.
I'd have to be photoshopped in since I'd probably be attempting to quench my severe thirst with lemonade.
During her surprise visit, a very pregnant Beyoncé was also filmed praising the students and dancers backstage for their exhilarating performance.
Here's the moment Beyoncé surprised students backstage after a performance at the Alvin Ailey American Dance Theater show.
Not only did she surprise them, but she told them all how awesome they were, too. At least, we know 2017 can't be shitty for all of us!
Earlier this month, Beyoncé and her mom Tina celebrated her step-dad Richard Lawson's 70th birthday along with Kelly Rowland.
She followed that outing up by checking out the "Beauty and the Beast" premiere with husband Jay Z and daughter Blue Ivy... Because family comes first!
Citations: A superstar mentor! Pregnant Beyonce uses a pink purse to hide her baby bump as she meets students after Alvin Ailey show in LA (DailyMail.com)