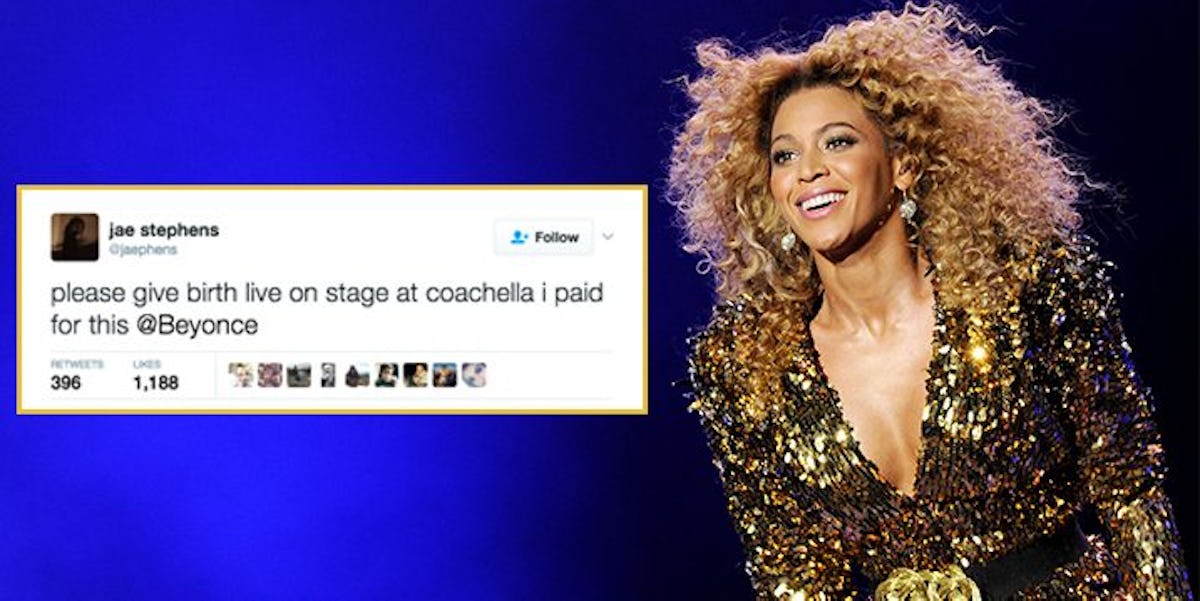 Beyoncé Announced She's Pregnant, But Everyone's Concerned About Coachella
REX/Shutterstock
Beyoncé, reigning queen of the world, announced she is pregnant today in an epic Instagram.
And she's not just pregnant either — she's having TWINS, y'all.
Obviously this is amazing news, and fans were falling over themselves to congratulate their queen.
But some of the congratulations went down like this:
OH MY GOD THIS IS AMAZING, CONGRATULATIONS BEY— Wait. What's going to happen to Coachella?
People. Beyoncé is about to bring TWO new Beyoncés into your life, and all you can think about is your Coachella tickets?
Earlier this month, Coachella announced its 2017 lineup. Beyoncé was listed as a headliner.
I have never once bought Coachella tickets, but let me tell you, when I heard Bey was going to be there, I damn well considered it.
So I feel for these people. I really do. The other headliners are Radiohead and Kendrick Lamar. (They're both cool but... c'mon. No one buys Coachella passes for JUST Radiohead.)
She hasn't officially canceled or anything, but it does seem like a possibility.
Coachella isn't for another three months, she already looks at least four months pregnant now and it's with TWINS. On top of that, TMZ reports top organizers at the music festival were just as surprised by the news as the rest of us.
So yes, some people are worried.
Others are keeping the faith that she'll be there.
Even if she does, it seems highly unlikely she'll do that signature Bey choreography.
Of course, there is still ONE way fans could get their money's worth.
Some think Beyoncé timed the pregnancy this way on purpose, for one good reason...
...or another.
And in the end, she's still Beyoncé. She's not about to bend her life around your Coachella plans.
Sorry boos! If she does cancel, you'll just have to enjoy your $200 ticket to a Radiohead concert.
Meanwhile, the Queen Bey will slay on, bringing two babies into the world at once, like a boss.
Citations: COACHELLA PRODUCERS IN THE DARK OVER BEYONCE'S PREGNANCY (TMZ)