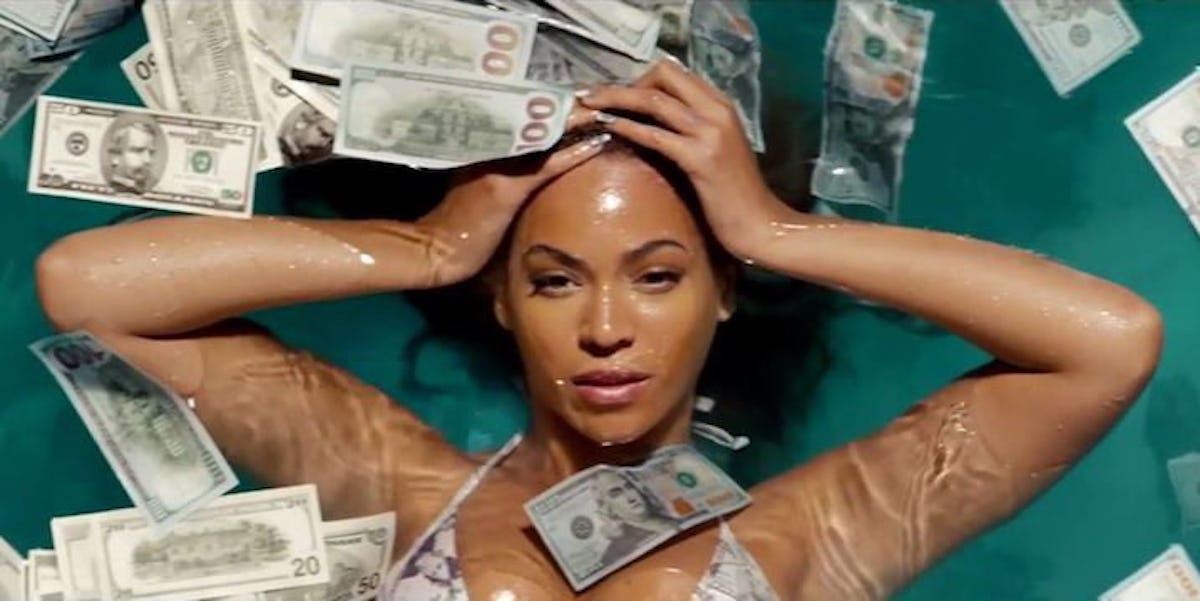 How Much Beyoncé Gets Paid For Social Media Posts Is So Ridiculous It Hurts
On the Run trailer
Who runs the world? Beyoncé, duh.
So it makes sense she's also the most marketable person on social media, but just how much she makes for a single Instagram post is fully insane!
Even though Queen B is only the 22nd most-followed person on the 'gram, a new report from D'Marie Analytics found her posts are worth more than anybody else's.
Apparently, one sponsored post from Bey has the advertising value of $1 million! Yep — that means marketing companies that spend months fine-tuning a million-dollar ad campaign are basically the revenue equivalent of Beyoncé hitting "Post."
So what is making Bey's social media so insanely profitable? I mean... have you been on Instagram in the past few months?
She had the whole app buzzing when she surprised the world by posting an ornate photo of her pregnant belly and confirming that she's been secretly pregnant with twins for months now.
Though Selena Gomez remains the most-followed person on Instagram, Beyoncé's baby belly picture quickly became the most-liked photo ever posted on the site.
Interestingly enough, the most-liked pic before Bey's post was an advertisement for Coke that Gomez had posted. Fittingly, Selena has been found to be the second most-marketable celeb on social media after Beyoncé.
Another thing that helps Bey's social media presence out is the fact that she doesn't post ads very often, which gives her account a more personal and welcoming feel for fans.
On the other hand, Selena tends to pepper sponsored posts in among selfies and professional photos.
Unfortunately for companies hoping to make use of Bey's super profitable social media, it sure doesn't look like they're going to have any luck.
The singer hasn't posted an overtly sponsored post to her social media in years. Several years back, she did drop a trailer for "Fifty Shades of Grey," which featured her "Crazy in Love" remix, and posted an ad for Pepsi as part of her partnership with the company.
Obviously, Selena Gomez is the easier way to go for companies hoping to utilize celebrity social media to sell their products, but I'm sure pretty much everyone in advertising is racking their brains right now trying to come up with sponsorship pitches to somehow get Beyoncé on board.
Where's Don Draper when you need him?
Citations: One social media post from Beyonce is worth $1 million in advertising (Moneyish)