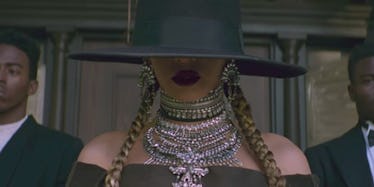 3 Beyoncé "Formation" Halloween Costume Ideas To Help You Twirl On Them Haters
YouTube
Halloween is a little over a month away, and if you don't have your costume set, WHAT ARE YOU DOING? Just kidding, I'm the queen of putting together last-minute costumes. But not this year! No, this year, I'm planning this ish out to the nines, and I'm here to help you do it, too. Beyoncé "Formation" Halloween costumes are the only things you need, as this has been quite the year of Bey, has it not? Outside of the world falling apart and Trump ruining everything, Beyoncé, as always, has been a guiding light of slayage.
Between her pregnancy announcement that broke the internet and all of the killer pregnancy looks that followed, her epic performance at the 2017 Grammy Awards, and her post-baby fashion choices, we're truly in an amazing new era of Bey. But she stopped the world when she dropped the "Formation" music video and Lemonade, so you can bet there will be plenty of "Formation" costumes out and about this Halloween.
We've rounded up our favorite looks from the "Formation" music video and the "Formation" World Tour to help inspire your 2017 Halloween costumes. Here's how you can recreate Queen Bey's legendary looks for your Halloween costumes this year, 'cause you came to slay:
1. The Iconic "Formation" Look: The Black Dress, Black Hat, & Jewelry
This look was so iconic, all of the women in Beyoncé's life — including Blue Ivy and Michelle FREAKIN' Obama — recreated the look as a birthday present to Bey earlier in September. So here's what you'll need to recreate the witchy look yourself:
The Legendary Wide Brim Black Hat
Price: $29.99
You can find this baby on Amazon at a super affordable price. And the best part about it is you can wear it during whatever season you want because a queen never stops slaying. Going grocery shopping? Wear The Hat™. Going to brunch? Definitely wear The Hat™. Doing literally anything? Wear The Hat™. It's a look. Serve it, queen.
Vintage Chain Statement Necklace
Price: $12
The "Formation" look wouldn't be complete without a clunky silver statement necklace stacked with a couple chokers. The necklace above can be found on Amazon, and you can pair it with any silver and/or black chokers you like! H&M has a lot of great, affordable chokers, as does Amazon, so get shopping.
Long, Off-The-Shoulder Black Dress
Price: $69
Beyoncé's "Formation" dress was a vintage Warner Bros. piece, so it's unfortunately not likely to be found in stores. But there are plenty off-the-shoulder long black dresses out there that are flattering for all body shapes and sizes, like the fab long-sleeved dress from Urban Outfitters pictured above.
Beyoncé has a mutli-layered skirt as part of her dress, so to make your look extra witchy, you can find a fab tulle skirt to wear over your black dress. There are plenty of really affordable ($30 or less) options from stores like Party City, but if you have a hankering to go full glam, you can snag this amazeballs detachable black skirt from Etsy:
Price: $85
I saw this and quite literally gasped at its fabulousness. This is a "I just murdered my third husband to become the next supreme"-level skirt. Pair it with some black combat boots and lots of clunky silver bracelets and rings, and you're in formation.
You can also nix the dress option and go the top and skirt route with this black off-the-shoulder top from Urban Outfitters:
Price: $49
It's really similar to the top of Bey's dress in the video, so pair this with a long, flowing black skirt and/or tutu of your choosing, and get ready to slay. Black booties are the best shoes to wear for this costume, and don't forget your favorite dark lipstick!
2. The "Formation" World Tour Look
The Victorian-style white lace bodysuit Beyoncé wore on the "Formation" World Tour was custom-made by Balmain specifically for Beyoncé, but there are plenty of ways you can recreate it for your Halloween look. The easiest part about this costume is you can start with a really simple and base and do some crafting to complete the rest, which is always the cheapest option.
Start off by finding a white long-sleeve leotard. You can find lots on DiscountDanceSupply.com, but there are also plenty of options for all sizes, like this gorgeous white lace bodysuit for plus-size women:
Price: $15.99
You can wear whatever you like on top: white shorts, pants, a skirt, what have you, just make sure it's white, just like Bey's outfit! Or you can just wear it as a leo like Bey and her dancers did. Beyoncé wore nude fishnet tights with her white leo as well, so if you'd like to wear fishnets, Amazon has a wide assortment and Nubian Skin has a great collection of tights for women of color.
Beyoncé's look has a small turtleneck collar, however, so you can add this fake turtleneck lace collar to your leo to pull off this "Formation" World Tour costume:
Price: $12.99
Add the silver, clunky statement necklace from above as jewelry, and you'll be looking like Bey in no time! Also think about getting some grey over-the-knee suede boots, since that's what the queen wore with this outfit.
Now back to when I told you to get crafty: You can go to any store that sells fabric/ribbon to find a suitable material to tack onto your leo. To add those vertical lines of flowing amazingness to the front and the sleeves of your leo, just use a sewing machine or sew on the white fabric by hand. And then you have your complete "Formation" World Tour look. Bless.
Bonus: If you really want to commit, you can snag a cheap gold microphone from Amazon, since Bey always performs with a gold mic.
3. Lemonade Beyoncé
You know we couldn't get through this list without including a "Hold Up" costume. The iconic mustard-yellow dress might not have been part of the "Formation" music video, but it was part of Lemonade, which was obviously what the "Formation" World Tour/all of 2016 was about, so this counts.
Ever since Beyoncé catapulted mustard-yellow maxi dresses into popularity with her "Hold Up" music video, brands have been providing their customers with amazing mustard-yellow dresses they can wear while smashing car windows with a baseball bat. Forever 21 has this wonderful mustard-yellow off-the-shoulder maxi dress with ruffled sleeves that's perfect for driving a monster truck over a pile of cars, opening a massive set of doors to release a sh*t-ton of water into the streets, or you know, just going around smashing things in:
Price: $34.90
Pair it with any pair of wedges you like and get ready to f*ck sh*t up. Don't think I forgot about the bat! You can get a lovely wooden baseball bat on Amazon or anywhere else people sell things for #sportsball. Just remind people that the bat is named Hot Sauce and that you've also got hot sauce in your bag (swag).
There you have it. Go off, go hard, get what's yours, you're a star. Happy Halloween, BeyHive!