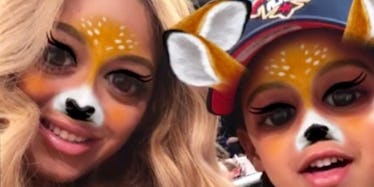 Beyoncé's Pic Confirms She Has Snapchat And Twitter Is On The Hunt To Find It
Snapchat
OK, I know Beyoncé has a lot going on in her life right now, like creating two new human lives inside her body.
Which is why I say what I'm about to say with the utmost respect, love and appreciation: BEYONCÉ! GIVE US YOUR FREAKIN' SNAPCHAT HANDLE!
Because according to this Instagram picture the 35-year-old singer posted Thursday night, our queen has had a Snapchat for God knows how long.
Here is the photo in question:
Yep, that's right, that's a photo of Bey and Blue Ivy with the deer face filter from SNAPCHAT.
Unless you're trying to tell me Blue, who is 5 years old, took this photo on her phone using her Snapchat, the Queen Bey has a secret Snapchat account. I'm gonna need her to share that with the world ASAP.
Think of all the incredible Bey content we're missing out on! We could be getting an intimate look at a day in the life of a queen!
Just imagine a world where we could watch Beyoncé's drunk antics after the Grammys, like we got to see from Chrissy Teigen.
That's the kind of world I hope to someday live in.
And look, I'm not the only one who desperately wants this Snapchat username.
The Beyhive is already on the hunt to find this dang thing.
Bey, I really think you should tell us. No one WANTS to invade your privacy and find your Snapchat against your will.
But if you're going to tease content and flaunt what we can't have in front of our faces like this, then, well, you're not really leaving us a choice.
What's that? Beyoncé has already given the world so much and is more than entitled to a private Snapchat if she so chooses?
Ugh, fine. But I'm still going to mourn the loss of those drunk Grammy snaps.