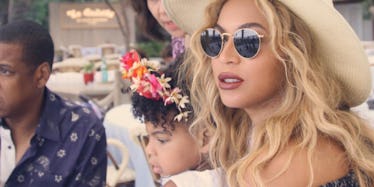 Beyoncé And Blue Ivy Are 'Mommy And Me' Goals In Matching Gucci Purses
Instagram
Most photos of you and your mom wearing matching outfits I'm sure have long been burned (mom -- what were you thinking? Matching teal sweatpants and sweatshirts? You fashionista).
We feel like Blue Ivy isn't going to have that embarrassing moment when she's a teen and her mom pulls out the old photo album to show her homecoming date.
Beyoncé recently took to Instagram to show off her 4-year-old's fashion sense, including one picture where Blue is rocking a light-wash denim jacket with the word "slay" on the back.
I think the pink Converses really pull this outfit together, though.
But the cutest part of this little denim jacket?
The fact that her superstar mom has the same one.
But that's not all!
The mother-daughter duo also had matching purses -- Gucci purses, naturally.
Big fan of the bird on Blue's bag, to be honest. Very cute.
I don't think I could pull off this look at all -- my mom was right to dress me in sweatpants.
Just look at these two.
This isn't the first time that Beyoncé and her daughter Blue have rocked the same look.
Back in July, they wore matching floral dresses by Gucci. Is there a pattern here?
Is Blue Ivy a big Gucci fan?
Here they are rocking their dresses in front of the Eiffel Tower in Paris.
Before this though, they also appeared at the MTV VMAs rocking some feathers and tulle.
Just look how flawless these two are.
Of course, your personal style isn't really going to be affected negatively if your mom is Beyoncé, but Blue Ivy is well on her way to being one of the most consistently best dressed of all time.
Meanwhile, when I was four years old, I'm pretty sure I was rocking a not-ironic Tweety-Bird shirt that said something sassy and maybe swim trunks that were clean.
Citations: Beyonce and Blue Ivy Slay in Matching Gucci Purses and Denim Jackets – See Their Adorable Ensembles! (ET Online)