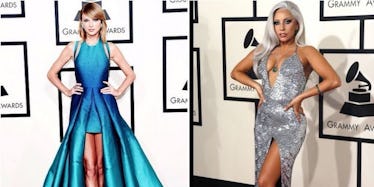 The Grammys Yearbook: Fashion Superlatives Fresh From The Red Carpet
Instagram
Anyone who watches the Grammy Awards knows the real event is on the red carpet.
Musicians tend to express themselves in all facets, including their wardrobes.
As one of the more creative and young award shows out there, the Grammy red carpet tends to skew less in favor of formal wear and much, much more funky -- this means more sartorial risks, hits and misses.
Since dissecting celebrities' outfits can feel a bit like high school, we decided to join the Yearbook Committee and dole out the fashion superlatives.
Here are 2015's best, worst and most creatively dressed stars!
Most Likely To Perform A Magic Trick: Charli XCX
Maybe she was hoping she could magically win all of the awards.
Most Likely To Win A Bull Fight: Madonna
Madonna: Singer, dancer, actress... high-fashion matador.
Most Likely To Be Mistaken For Cotton Candy: Rihanna
And somehow, she still looks cool.
Most Likely To Lead A Bedazzled Marching Band: Kim Kardashian
Kanye's marching band, that is.
Most Likely To Adhere To The Dress Code: Taylor Swift
Because darling, she's a nightmare dressed like a daydream.
Most Likely To Actually Wake Up Like This: Beyoncé
No makeup, bedhead and a dress that looks like one she casually plucked from a closet filled with A+ past looks. But damn it, she still looks #Flawless.
Most Likely To Hide Behind Her Looks: Sia
Most Graciously Aging Earth-Dwelling Mermaid: Lady Gaga
Her inspiration: "The Little Mermaid" meets 70s discos.
Most Likely To Be Sia's "Chandelier": Katy Perry
Most Likely To Wear A Crown Despite Losing: Iggy Azalea
Girlfriend has a lot to feel blue about, but her hair crown is a sure, uh, winner.
Most Likely To Be Mistaken For A Garbage Bag: Ciara
We'll call this "dumpster chic." You're not trash, Ciara!
Most Likely To Bring Be Her Own Disco Ball: Rita Ora
"Shine Ya Light," lady.
Most Likely To Try And Do What JLo Did 15 Years Earlier: Ariana Grande
Take a line from your song, Ariana, and "Break Free." Go ahead; it's OK.