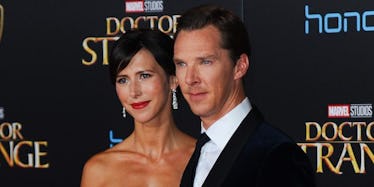 Benedict Cumberbatch Welcomed Another Baby Boy And His Name Is So Unique
REX/Shutterstock
Benedict Cumberbatch, also known as Benefit Cucumber, Blueberry Crumble Bun, Bumblebee Cinderblock and Bottom Left Cabinet, is once again a father.
The 40-year-old British actor and his wife, theater director Sophie Hunter, welcomed their second baby boy earlier this month, according to a new report from People.
The couple's first son, Christopher Carlton, was born in 2015.
The newest member of the Cumberbatch/Cucumber/Crumble Bun family was born on March 3. Unfortunately for us, but fortunately for him, Benedict's youngest son's name is not quite as easy to poke fun at as his father's is.
And that name is... drumroll please... Hal Auden Cumberbatch!!!
So yeah, "Hal Cumberbatch" doesn't really have the creative mockery opportunities that "Benedict Cumberbatch" affords. Sadly.
But it's still a pretty interesting name. In fact, in this day and age, it's an incredibly unique name.
According to Baby Name Wizard, the name "Hal" used to be pretty popular in the 1950s, but since then has dropped drastically on the charts.
In fact, it's become such an uncommon name, it hasn't even made the popularity chart since the late 1970s.
Honestly, this is the best gift you can give a child. Young Hal Cumberbatch here will never have to go by "Hal 2" or "Hal C" in his grade school. He'll always just be Hal, the one and only.
(I did not have that good luck with the name "Anna.")
Meanwhile, Burberry Cummerbund will likely continue on in his role as Sherlock Holmes in BBC's "Sherlock."
The fourth season premiered in January, and while there's no guarantee that season five is happening just yet, Cumberbatch is signed on to do the season if it happens.
Cumberbatch also recently starred in Marvel's strangest super hero film yet, "Doctor Strange," in 2016, which made roughly $677.6 million in the box office.
Well, at least little Hal will grow up with plenty of money!
Congratulations to Baltimore Cuttlefish and Sophie on their latest miracle.
Citations: Benedict Cumberbatch and Wife Sophie Welcome Second Son (People)