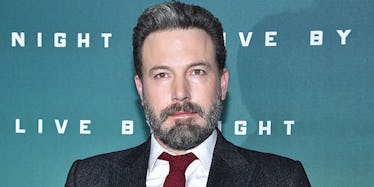 Ben Affleck Reportedly Has A New Girlfriend After Jennifer Garner Divorce
Pascal Le Segretain/Getty Images
Ben Affleck is reportedly dating a producer from Saturday Night Live, and it's apparently not just a summer fling.
It's just been a couple of months since Ben Affleck and Jennifer Garner filed for divorce back in April, but now Affleck is in the "early stages" of romance with Lindsay Shookus, People reports.
Elite Daily reached out to NBC and Garner's team but did not hear back by time of publication. Affleck's team declined to comment to Elite Daily for this story.
A source close to the couple reportedly said,
It's more than a summer fling. They are having fun and care for each other. It's early and they are taking it slow.
Affleck and Shookus reportedly were in London together recently while Affleck was there for work. They reportedly went to see a show called Ferryman in the West End and were seen out to dinner in LA together on Thursday, July 6.
Yup, it looks like Ben Affleck and Jennifer Garner's chances of getting back to together are slim to none.
When Garner and Affleck filed for divorce, they reportedly applied for joint legal custody of their three children and filed the paperwork together. I guess divorce can be amicable at times.
A source told People,
They always planned to divorce despite what people said. If you look at their first statement it says divorce not separate. They just did it the way they wanted to and did what was best for their kids. There was no catalyst, it was just time. Nothing has changed, they are and still will be putting their kids first.
The couple was married for 10 years before deciding to split. During the latter years of their marriage, Affleck allegedly had an affair with the family's nanny.
Garner and Affleck initially were just separated, and Affleck was reportedly still living in their home so they could try to make the big change more palatable for their kids. Affleck also checked himself into rehab (with Garner's support and assistance) for alcohol abuse and was released in March.
In a joint statement about the divorce, they said,
After much thought and careful consideration, we have made the difficult decision to divorce. We go forward with love and friendship for one another and a commitment to co-parenting our children whose privacy we ask to be respected during this difficult time. This will be our only comment on this private, family matter. Thank you for understanding.
IT'S NOT RIGHT, BUT IT'S OK. I'M GONNA MAKE IT ANYWAY.
But guys... I just really need to point something out.
Look at this picture.
Now look at it again, except closer.
INCREASE MAGNIFICATION.
"NIGHT." "LIVE."
AS IN SATURDAY.
HE WAS TRYING TO TELL US ALL ALONG.
SHOOKUS HAS ME SHOOKETH.