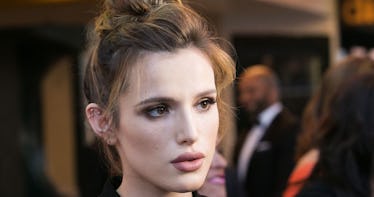 Bella Thorne's Massive Hickey Was The Real Winner Of Her Birthday Snapchats
REX/Shutterstock
Septum, Snapchat and side boob were the main themes of Bella Thorne's 19th birthday celebrations.
But something else stole the show: THAT MASSIVE HICKEY ON HER NECK.
The actress documented her day with loads of snaps, and a shamelessly large bruise was very apparent on the left side of her neck. We need to know who did this.
As part of her B-Day, she headed to Body Electric Tattoo and Piercing on Melrose in LA to get a gnarly nose piercing.
A hard-to-stomach snap shows Bella lying on her back with a small metal rod shoved through her septum. She can be heard saying,
Oh my god!
Now she's rocking a seriously punk look.
I want to be her friend as well.
Earlier this summer, Bella ending things with her 24-year-old boyfriend, Gregg Sulkin. The couple looked too good to be true. Turns out, they were.
At the time, the couple released a joint statement telling the world their romance was over. It read,
Our schedules made seeing each other difficult, and we decided that, for now, this would be best.
But don't play the world's smallest violin for these guys just yet. Two things happened in the aftermath of their split: Greg posted a photo of him rocking some mean abs while playing basketball in his pool...
...and Bella took to Snapchat to reveal that she is actually bisexual.
Her post was of two polaroid pictures that showed her kissing an unidentified woman.
It's a really romantic picture:
Bella posted the picture on Monday night before confirming on Tuesday that she now identifies as bisexual.
Loads of people went on Twitter to shower her with messages of support.
Bella showed she was grateful for all the kinds words with this tweet:
Young love — it's so confusing and exotic these days.
Citations: DailyMail.com