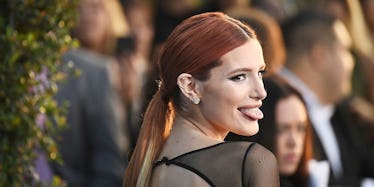 This NSFW Video Of Bella Thorne Getting A Bikini Wax Will Make You Feel Her Pain
Frazer Harrison/Getty Images
I'll just say it: Bikini waxes are dumb.
I understand fads go in and out of style, and there was (is?) a time where a hairless, smooth, baby butt vagina was all the rage... but I feel like we are at a time historically where we can kind of take back our pubic hair. You guys with me?
Bella Thorne is not with me. Not just yet.
The 19-year-old actress, who is no stranger to racy videos, gave her fans the heads up on Twitter that she shared her first time getting a wax on her Snapchat.
YOU HEAR THAT, TWITTER? BELLA THORNE GOT HER VAGINA WAXED AND YOU CAN TUNE IN!
Fortunately, Bella's friend documented the whole shebang, very conservatively blocking out her, uh, lady parts.
Still, the pain is clear on the actress' face.
Bella, what are those tweezers for?!
Look, I'm not a professional waxer, but does the room look weirdly like a prison cell with an interrogation light hanging over Bella's bella?
As graphic as the footage itself is, it's that real RIIIiiiIIppppPP sound that has me cringing in my Amazon Prime computer chair.
But, if anyone can do it, it's gotta be this chick.
For the most part, the bulk of the video is her and her girlfriend laughing, giggling, "eeeking" and one nice lady in a white trench coat, which is exactly what I would want my wax specialist to wear, too.
No telling if the rebel artist will continue with the regime, but if there is one thing I DO know about bikini waxes, (and I do know some things) is that she is in the clear for roughly two to four weeks before she needs to make a decision.
Ahhh yes, beauty. What a crazy, expensive, unnecessary world we all live in.
Citations: Bella Thorne Bikini Wax (Cosmopolitan)