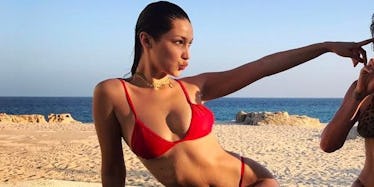 Bella Hadid Is Celebrating Her Vacation By Posting A New Round Of Beach Pics
Instagram
Don't you wish you were lounging on a beach somewhere?
That's exactly what Bella Hadid's been doing over the last few days. Fresh off of a trip to Jamaica, the 20-year-old model didn't waste any time jetting over to Mexico to bask in the sun.
Apparently, one getaway isn't enough when you're Bella Hadid!
Sporting a red velvet bikini, Bella posed for a bunch of Instagram photos that will make you want to readjust your fitness goals. For the most part, though, you'll just be jealous you're not on vacation right now.
Behold the beautiful Bella Hadid lounging on a beach in Mexico over the weekend. Breathtaking!
During her trip to Mexico, she hung out poolside on the beach with singer Jesse Jo Stark (also breathtaking).
Now, this is what total relaxation looks like!
Just before heading to Mexico, the 20-year-old model shared photos from her trip to Jamaica.
Why? She just needed some time away from home with her girls -- that's all. Casual!
What have we done to deserve these?
We're not worthy...
Take. Us. With. You.
So, why is a woman as beautiful as Bella Hadid still single? Well, other than giving us all hope, she recently split up with ex-boyfriend The Weeknd last year, and she's not looking to rush into another relationship (sorry, guys).
In a new interview with PORTER magazine, Bella opens up about her love life, saying,
I'm just really focusing on myself and my work and just being the best that I can be. I'm not really worried about what guys think about me, I'm just trying to be a woman!
She's just keeping it real.
The star went on to talk about the negative effects of having a spotlight constantly shining on your love life.
It gets really overwhelming. You feel really overexposed and you don't want to see anybody... I just want to be in my apartment alone and kind of retreat and be centered again.
And when she's not curled up in her apartment alone, she's on beaches in Mexico being perfect. Yeah, I think it's safe to say she's so over The Weeknd by now!