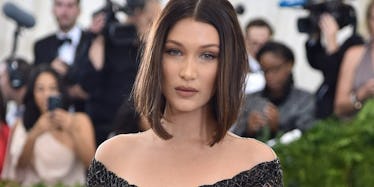 Bella Hadid Bares It All In Super Revealing Met Gala After-Party Dress
Getty Images
Last night was the 2017 Met Gala and you know what that means... NAKED CELEBRITIES.
Just kidding, but only kind of.
The Met Gala rings in May each year in celebration of the Metropolitan Museum's Costume Institute, and this year it was themed Rei Kawakubo/Comme des Garçons: Art of the In-Between, and celebrities turned out in some awesome and outrageous gear.
All eyes were on the famous sisters Gigi and Bella Hadid, as they took the fashion world by storm. They're the planet's most perfect specimens and we'd send them to an alien planet to represent us, obviously, if given the opportunity.
Gigi Hadid stepped out in a camel gauzy, leather something or other...
...and Bella Hadid stepped out in THIS.
Oh... OK, Bella! Sure, sure, sure.
Why didn't I think to slip into my chainlink fishnet-onesie to wear out on arguably fashion's biggest night? UGH, I wish you called to tell me we were all going chainlink last night!!!
The jumpsuit was made by Alexander Wang, who, seemingly, is Bella's BFF in the whole world.
However, this get-up would turn out to be just the warm up for the real shebang later in the night at an after-party, when Bella entered wearing an entirely see-through dress with (apparently) high-end fashion tape covering her nipples.
Yup. Here she is.
Here she is again from alternate angles.
And again, smiling, but still with the nipple tape... Always with the nipple tape.
Bella wasn't the only young, crazy, famous model to bare it all last night, as she was accompanied by her chainlink-fishnet-gal-pal Kendall Jenner.
Jenner paired her see-through outfit with a thong, confidence and we assume the strength of a thousand swans flying in unison, but hard to tell through Instagram.
One thing is for sure: Cotton, YOU CAN TAKE A HIKE.