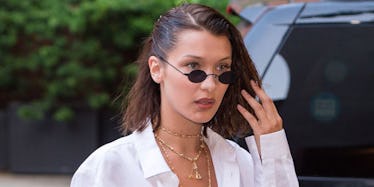 Bella Hadid Doing Kanye West Karaoke Is You At Every Pregame
Gotham/Getty Images)
Guys, I've never identified with Bella Hadid until this moment. I feel a spiritual connection to her now. We are one.
She's been having a GREAT week in New York City, and it's only Tuesday. You know how I know? Well, for starters, she posted a high-def picture of spaghetti on her Instagram story. Literally, just spaghetti. I instantly salivated.
I wasn't following her before, but the second I saw this, I followed the sh*t out of her because spaghetti must be respected. (I had it for breakfast on Sunday, then again for lunch, in case you were wondering.)
Bella Hadid: model, visionary, spaghetti photographer. I feel so inspired. Just look at that marinara. Damn, I'm hungry.
Not only did she post an absolutely stunning picture of pasta on her Instagram story, but she also LIKED A PHOTO OF THE WEEKND... and then immediately took the like back.
The Weeknd made it onto Forbes' Celebrity 100 list (ranked number six), and an Instagram account called The Shade Room posted a picture of the singer's cover. AND BELLA LIKED IT!
Do you KNOW how drunk I have to be to do that???? Like, really freaking drunk. GO, BELLA! DO YO' THANG.
But fans started noticing right after she liked it, so she unfortunately took her like away. But who's to say that un-liking the pic wasn't part of her plan the entire time?!
She easily could have liked it with the intention of the internet blowing up the second she took it away as a way to be shady toward The Weeknd and Selena Gomez. But I am also a celebrity conspiracy theorist, so don't listen to me.
Bella was THEN seen getting ~cozy~ with Australian model Jordan Barrett at an NYC hotel. This girl is literally LIVING UNAPOLOGETICALLY right now, and I'm here for it. (Please post more pictures of spaghetti.)
IT GETS BETTER. Last night, Bella went out with friends in NYC and did what literally all of us do at every single pregame: sang along to every Kanye West song that came on shuffle.
Yeah, Bella literally was at a dance party, somehow got hold of a mic, and just started doing karaoke to Kanye's "Fade."
LOOK AT HER. LOOK. AT HER.
Literally, who cares if she doesn't follow The Weeknd on Instagram anymore. Bella Hadid is living her best life.
And I hope that best life is filled with a massive pile of spaghetti.