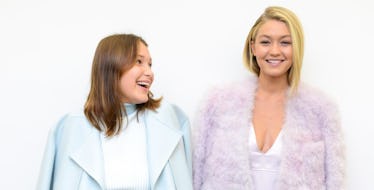 Bella And Gigi Hadid Channel Their Inner Spice Girls On An Epic Night Out
REX/Shutterstock
I truly feel like it's just a matter of time before Bella and Gigi Hadid form a super group to rival the Spice Girls' '90s fame.
Until that day, we'll have to settle for a Snapchat.
The model sisters ("model" because that is their job and, also, they are everything sisters should be) were seen partying it up in West Hollywood, California at hip celebrity spot The Nice Guy.
On the way to the club, Bella spent some time Snapchatting what is quite possibly the most perfect lip sync in the history of man.
The night out seemed much needed. The sisters probably haven't seen a lot of each other due to their crazy schedules.
Bella was recently in Turks and Caicos for her friend Kylie Jenner's 19th birthday, and she just landed a Vogue Paris September cover.
Meanwhile, Gigi recently scored her first US Vogue cover while working on campaigns for both Versace and Tommy Hilfiger.
But here they are — reunited.
It's great to see the sisters taking time to spend together despite their busy lives, especially because it is probably just going to get busier with all their success.
Hopefully they'll work together soon... maybe on Jimmy Fallon's "Lip Sync Battle"?
Citations: Entertainment Tonight