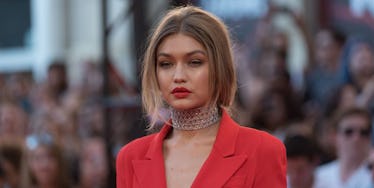 Gigi Hadid Is Ultimate Summer Goals In This Super Patriotic One-Piece
REX/Shutterstock
Most of us go into summer with a clear plan for what we want to achieve sartorially, only to forfeit by mid-July and commit to walking around in a pair of sweat-stained bike shorts and a shirt we cut up at summer camp a decade ago.
It's not our fault. Summer is disgusting and we are poor.
For rich, gorgeous, celebrity dream unicorns like Gigi Hadid, though, seasons don't exist.
Whether it's the dead of winter or the absolute hellfire of summer, Geeg looks breezy and flawless. It defies all science.
Case in point: Her recent photo shoot for Tommy Hilfiger.
There is zero boob sweat, zero lip drip, zero swamp-ass in any of these shots.
She is just coasting down the shoreline on her bike as though it doesn't feel like baby Jesus has forsaken Earth to Satan himself, who has, in turn, tucked our planet away inside his fiery butt hole for safe keeping.
Gigi Hadid IS #summergoals. #Summergoals IS Gigi Hadid.
Well, sort of.
In all honesty, #summergoals is something more realistic, like sitting on a leather car seat for more than two seconds without leaving an Olympic-sized pool of salty thigh water behind... but, like, dare to dream.