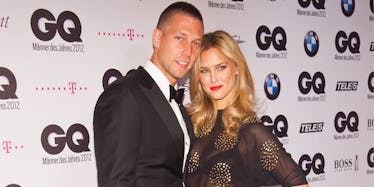 Bar Refaeli Has A Brother And His Body Might Be Even Hotter Than Hers
REX/shutterstock
We need to talk about Bar Refaeli's brother, guys.
If you're unfamiliar with Bar, this one picture should get you caught up REAL quickly on everything you need to know about the 31-year-old Israeli supermodel.
She's a TV host, was the highest-paid model in Israel in 2013, had a Sports Illustrated Swimsuit Edition cover, was voted number one on Maxim's Hot 100 list and was even linked to Leonardo DiCaprio for a bit, which at this point is a right of passage for anyone trying to make it in the modeling industry.
She also has a brother, who is without a question one stone-cold Israeli fox. Seriously, like humus covered in ghost peppers level hot.
LOOK AT THE MARVELOUS WORK THE REFAELI GENES HAVE MADE POSSIBLE!
Effing hell, how good looking can two people from the same family be?!?! This is just entirely too much sex appeal for a single shared set of DNA. I would pay millions to be a fly on the wall at Refaeli family events.
I mean, this is just unfair. There should be better distribution of hotness among families. Every family should be allotted a certain amount of hotness and then have it shmeared out among all of the members. You can't just gloop all the hotness onto one family.
OK. Rant over.
Anyway, ShaaaAAAAAaaaaaAAAAAaaaalom, Dor Refaeli.
SHEKET BEVAKASHA! I'm trying to enjoy this!
Plus, he's a big softie for dogs. What else could one want in a man?!?!
AND HE PLAYS GUITAR?!?! WTF.
AND HE SURFS?!?!? WHO THE EFF IS THIS GOLDEN CHILD?!?! WHY IS HE NOT IN CHARGE OF THE UN?!?!
Melt your effing heart.
Dor Refaeli, you are the star of 74 percent of my dreams from now on.