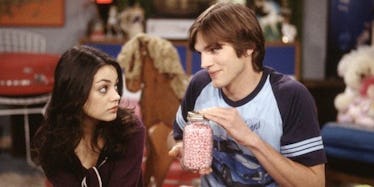 Ashton Kutcher Posted A Pic Of His Son In A 'That '70s Show' Shirt And It's Everything
FOX
Ashton Kutcher and Mila Kunis are doing this whole celebrity couple thing really well. The former That '70s Show co-stars have been married since 2015 and have two children together, a daughter named Wyatt and a son named Dimitri. They are slaying the parenting game, and this photo of Ashton Kutcher & Mila Kunis' son in a That '70s Show T-shirt proves it. On Monday, Sept. 11, Kutcher posted a photo of little Dimitri wearing a T-shirt that featured a picture of his famous parents on the show that brought them together, and I am melting. I am a puddle on the floor. No chance in reviving me. This is too adorable.
The photo on the shirt shows Kunis and Kutcher showing some ~attitude~ and says "Hello Wisconsin" on it — the line Kelso screams at the end of the opening sequence for the show. Classic Kelso and Jackie. Kutcher's caption for the post read, "Yes,this Is my son's outfit today. #that70sshow #kelsoandjackieforever." Kelso and Jackie forever!!! Be still, my beating heart.
In case you didn't know, Kutcher and Kunis got their claim to fame when they starred as Kelso and Jackie on That '70s Show. (How do you not know this by now?) Their characters had one of the longest relationships on the show, and their first kiss on-screen was actually Kunis' first kiss ever. And now they have babies!! Ugh, ain't love grand.
Kutcher/Kunis family baby clothes game strong.
Earlier this year, Kutcher revealed he and Kunis weren't always set on the name Dimitri. In fact, they had been settled on a completely different name for a while before Kunis said her gut was telling her different. Kutcher said, "We were set on Walt, like Walt Disney. No Walter, just Walt, but then it changed last minute." Walter! He continued,
We were driving in the car and Mila turns to me and she's like, 'I don't think that our son's name is Walt. I think it's Dimitri, and also I think that Donald Trump is going to be the next president.' I had missed the whole name thing, because I was like, 'What are you talking about? Trump is not going to be president.' Then, like, two days later I remembered that she said it, and I was like, 'I think you're right about the name.'
He expanded on the whole Kunis predicting the election story in an interview with Ellen DeGeneres back in May 2017. The actor/activist said,
And I was like, 'Donald Trump's not going to win this.' And then I forgot about the name thing because I was like, 'Why do you think Donald Trump's going to win?' And she predicted — I'm telling you, she called it. It's not even a joke. But any which way, so I was like, 'That's just not, it's not real,' and we ended up not talking about it. And then two weeks later, I got home from work and for some reason the name just stuck in my head, and I was like, 'I think Dimitri is the name of the baby,' and she's like, 'I know, right?' And I was like, 'Yeah, that's it.' Everything Mila said is right! But she's my wife, so that's just what it is.
Dimitri, it is. Kutcher and Kunis are really private about their kids' lives and never post any pictures of their faces online. They're pretty good at keeping their relationship private as well, but they aren't averse to answering questions about their life together. That's likely because they know how much everyone loves the fact that Jackie and Kelso got married IRL. Kutcher does post things about his family on Instagram every once in a while, however.
On Mother's Day, he posted a picture of a banner he and his kids made for Kunis that said "We <3 Mom."
And he posts adorable pictures of him and Kunis all the time, even though she's not on Instagram.
They are hands down one of my favorite celebrity couples. Ashton and Mila/Kelso and Jackie forever.