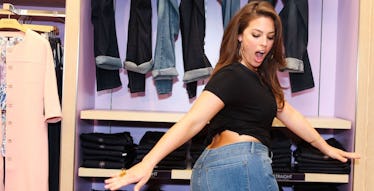 Ashley Graham's Butt Was The Real Star Of Her Sister's Wedding
REX/Shutterstock
Picture this: Your sister is on the cover of Sports Illustrated Swimsuit issue.  No, even better, she's the first plus-sized model to appear on the front cover of Sports Illustrated's Swimsuit issue. Jealous yet?
I have a biological sister and I'm in a sorority, so I know how sibling rivalry works. Maybe I'm just speaking for myself, but I would hate to be living in my sisters' shadows.
But I guess I really am the only one since Ashley Graham and her younger sister Abigail seem to get along just fine!
Yep, you read the caption right:
Congratulations to my baby sister on her beautiful wedding day!
This is on her sister's wedding day. I guess she might've been attempting to not steal the show by wearing casual pants, but... DAT ASS DOE.
If you think it looks nice in that picture, this one really takes the cake. (HAH, get it? Cake?)
It's not even her wedding, but we wanna lick the icing off.
Abigail ain't even mad, though. According to Page Six, she defended her older sister saying,
Hey people who want to dictate what my thoughts are – I asked my sister to take my photos (when the camera dies you improv with an iPhone), I asked my sister to wear that sexy outfit, and I asked my sister to post that photo because her ass looks so good. SO GOOD! IM SO GRATEFUL to have a selfless, loving, supportive sister who took time out of her busy schedule to fly to NE to help me find the perfect dress & then later take MORE time off to fly out for my elopement. Ash, you are the best sis in the world! I'm so thankful to have you as my bestie! LOVE YOU!!!!!!!
Ashley also didn't care what people had to say. A day later, she posted a video of herself pointing to her jacket (sure) in the same area the other photos were taken.
No, thank YOU, Ashley, for this fantasstic view.
Citations: Booty-ful view! Ashley Graham shows off her pert derriere in skintight leather trousers while at her younger sister's wedding in Colorado Read more: http://www.dailymail.co.uk/tvshowbiz/article-3846540/Ashley-Graham-shows-pert-derriere-skintight-leather-trousers-younger-sister-s-wedding-Colorado.html#ixzz4NST2SliY Follow us: @MailOnline on Twitter | DailyMail on Facebook (DailyMail UK), Ashley Graham under fire for wearing this to a wedding (Page Six)