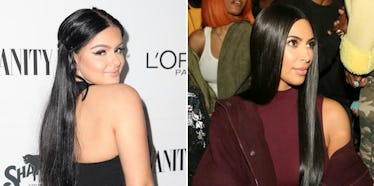 Ariel Winter Shows Off Bare Butt On Insta And Fans Think She Looks Like Kim K
REX/Shutterstock
Social media queen and "Modern Family" star Ariel Winter has a GREAT body, and she's never been shy about showing it off.
It doesn't matter whether she's in a thigh-high dress on the red carpet or posting casual bikini pics on Instagram; she knows how to work it, and she OBVIOUSLY DGAF what you think about it.
Which is why her latest Instagram pic should come as no surprise.
She posted a bootylicious picture of herself facing a wall in the California sun, and DAMN... It's getting hot in here.
She's just chilling, flashing her bare butt to the camera... you know, as you do.
But some people thought she was trying WAY too hard.
Namely, they thought she was trying to be like ANOTHER famous bootylicious celeb.
Do you see the resemblance?
People were super quick to point out the Kardashian connection.
And one commenter was very upset about it.
Of course, the most OBVIOUS Kardashian comparison was to Kim.
Although "Ariel Kardashian" has a nice ring to it, am I right?
Move over, Kim.
Gotta love the obvious commenters.
Ariel > Kim.
And one commenter was certain Ariel was ACTUALLY trying to be like Kylie Jenner. But Kylie basically copies Kim anyway, so it's the same thing.
But whether she's imitating anyone or just merely showing off her curves, you have to admit one thing: Girl looks damn good.
She told Elite Daily in an interview,
Now, I post a photo and I don't care. If you're going to write something on it, whatever… If somebody doesn't like what I'm doing, you can unfollow me.
She embraces her body wholeheartedly, and whether you hate her or love her for it, it doesn't look like she's planning on stopping anytime soon. And honestly, that kind of confidence is extremely refreshing to see.
So keep doing you, Ariel. We wouldn't want it any other way.