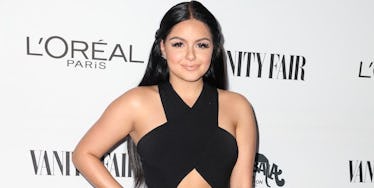 Ariel Winter Has Legs For Days In Sexy Black Dress At Vanity Fair Event
REX/Shutterstock
Dayummmm, Ariel Winter! That dress is not playing around.
I don't know when it happened, but sometime over the past few years, Winter went from being the dorky younger daughter on "Modern Family" to a full-fledged Hollywood hottie.
The 19-year-old actress attended a Vanity Fair event Tuesday night where she decided to show off her dogs in a super-hot black dress.
This dress should just be straight-up illegal, Ariel "Nuclear" Winter.
*Puts on '40s gangster accent* That back ain't too bad either, boss.
The event was a partnership between Vanity Fair and L'Oreal Paris called "Toast to Young Hollywood" in West Hollywood.
A few weeks ago, Winter crushed it on the SAG-AFTRA red carpet with her boyf and fellow young Hollywood-er, Levi Meaden.
This is far from the first time that Winter has blown us all away with a red carpet look.
Here is another look at that dress... and Levi.
Here they are with a furry thing.
Unfortunately, the pair seems to have been getting a lot closer over the past few weeks — great news for the concept of love, terrible news for all those Mr. Ariel Winter hopefuls out there.
She and Levi recently hit up a zoo to hang with some animals, and it was absolutely adorable.
She captioned the post,
She wanted us all to do Blue Steel but we weren't down. #selfie
Here they are with a not-furry thing.
BIKINI SHOT!!!!
The couple also spent Valentine's Day together by doing romantic Valentine's Day stuff.
So, it looks like the two are pretty stapled to each other for at least the next little bit.
We're all just going to have to find new crushes, OK?
I KNOW I KNOW! This is brutal, but like, what other options do we have? THEY DID BIKINI PHOTOS! THAT'S LEGALLY CONSIDERED MARRIAGE IN 31 STATES!
Citations: Ariel Winter Shows Off Her Stems in Sexy Halter Ensemble: Pics (ET)