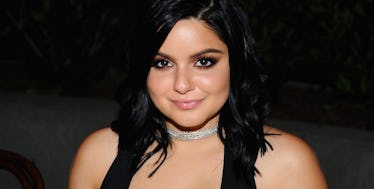 Ariel Winter's Workout Will Get You A Perfectly Perky Butt In 2017
REX/Shutterstock
I don't care what anyone says -- 2017 is gonna be my year.
I'm gonna quit drinking, get a boyfriend and lose 20 pounds.
Ha ha, who am I kidding. I'm chugging vodka as we speak.
But seriously, I do plan on hitting up the gym at least once or twice. Before we know it, it'll be bikini season and I'll have to stick my whale ass on the beach.
If getting toned is one of your New Year's resolutions as well, then Ariel Winter has a workout plan that'll get our beach bods in tip-top shape.
I don't know about you, but I'm specifically lookin' to gain more junk in my trunk if you know what I'm saying. I want a perky behind. I want a handful of ass.
You know, a big o' booty like Ariel Winter's. I mean, look at this thing! I'm mesmerized.
So, what kind of exercises does Ariel do to get a bod like this?
Well, according to Foods 4 Better Health, the 18-year-old star does a lot of strength training, weight lifting and cardio workouts. To shape her butt, she does a lot of lunges and squats.
SEE! Look at her go. You lift those weights, girlfriend. You squat that badonkadonk.
Ariel Winter doesn't just go to the gym, though. She also enjoys hiking and being active outdoors.
In terms of her diet, the actress chows down on fish and chicken. She has it for lunch AND dinner, so that's a lot of meat.
To get her complex carbohydrates, she eats whole-grain cereals and wild rice.
Cool, well, that's a little more elaborate than the diet I'm currently used to. I just ate doughnuts for lunch. I'm probably gonna have cereal for dinner.
Here's another tip from Ariel Winter: Drink a lot of water. She loves her H2O. As the site explains,
It helps her stay hydrated and refreshed.
Good to know! I think vodka does the same thing for me.
Thanks for the workout and diet secrets, Ariel! Can't wait to get a perky booty just like yours.
Citations: Ariel Winter Body Workout (Foods 4 Better Health)