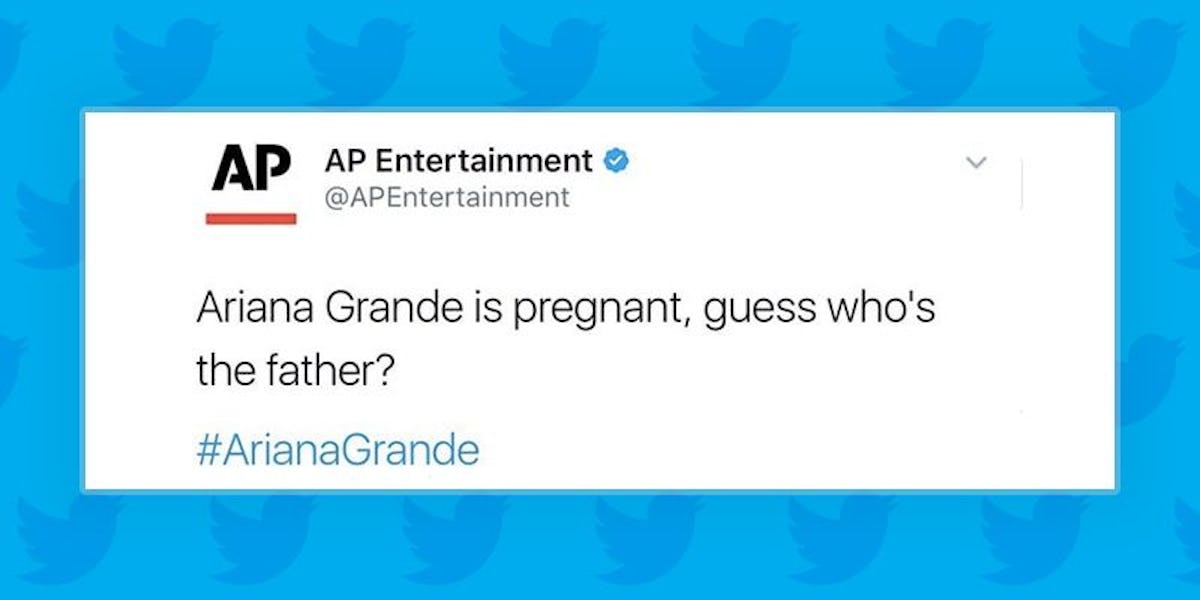 AP Accidentally Tweeted Ariana Grande 'Is Pregnant' And Everyone Freaked Out
Twitter
Let's be very clear: No, Ariana Grande is not pregnant. Probably not. We think. Or, wait... is she?
The Associated Press created confusion about the matter on Wednesday night when the @APEntertainment account mistakenly tweeted Ariana was pregnant.
The tweet read,
Ariana Grande is pregnant, guess who's the father? #ArianaGrande.
The tweet was quickly deleted and replaced by a new tweet, which said it was "unauthorized."
The tweet read,
.@APEntertainment has deleted from its account a tweet about Ariana Grande. It was unauthorized. We are investigating.
OK, so there are few things about this that are interesting to me.
First, the fact AP didn't come forward and say Ariana Grande isn't pregnant. It just said that first tweet was "unauthorized."
Second, what is up with that whole "unauthorized" thing? Did some hack the AP Entertainment Twitter account just to tweet this?
The "Who is the father?" comment stands out to me as well — it means it's unlikely someone was just mistaking Ariana for Beyoncé, who actually is pregnant.
After all, we all know the father there is Jay Z.
I don't know. I don't want to start any rumors, but this whole thing is fishy. Maybe Ariana IS pregnant and just keeping it under wraps.
On the other hand, maybe some intern at the Associated Press just has a very bad sense of humor.
There's been no comment on the matter from the 23-year-old singer as of yet.
Arianna is currently dating 25-year-old rapper Mac Miller, so maybe someone should get his opinion on all of this, too.
Surely, if Ariana does turn out to be pregnant, Mac would be the father — those two are, like, crazy devoted to each other. Ariana Grande's even said Mac is her "soulmate."
I guess we'll just have to wait and see.
Citations: Ariana Grande Pregnant Tweet Accidentally Posted by the Associated Press (Us Weekly)