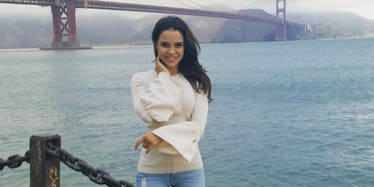 Angelina Jolie Lookalike Says It Would Be 'Terrible Of Her' To Date Brad Pitt
Instagram
"Oh my God, no way." - model Mara Teigen when asked about the possibility of maybe possibly dating Brad Pitt.
Let me just say, this is the great equalizer between me and Brad Pitt. Normally, I worry about Brad beating me in every aspect of life. He's richer than I am, has international fame, owns like 15 kids or something and has a vineyard.
So you win all of those categories, Brad. Congrats. You're better at me when it comes to those things.
You know what, though? When it comes to dating model and Angelina Jolie lookalike Mara Teigen, we're on the exact same playing field, BRADLEY, because -- guess what? -- she doesn't want to go out with EITHER of us!
BOOOOOM!
In fact, according to this quick Slack conversation I had at work today (all you employed people just went, "Oh, Slack," to yourselves, I assume), it turns out, you're undateable to EVERYONE.
IN. YOUR. GODDAMN. FACE.
WE. ARE. THE. SAME. LONELY. PERSON. WHO. MIGHT. AS. WELL. GIVE. UP. ON. LOVE. BRAD.
When asked about what she thought of the Brangelina breakup, Teigen told reporters,
It's so sad to me. I thought they would last.
She was then asked the big question we were all wondering: Would she want to date Brad now?
She's not exactly looking at this situation as a way to climb up the Hollywood ladder, though, because she told TMZ she would never date single Brad Pitt, saying,
OMG, no, no way. First of all that would be like really like just terrible of me to do. Like, thinking that I do look like her and thinking I can just get him because of that. Second of all, no. I'm in love. So I don't think about any other guys.
Sorry, Brad. back to dating every other supermodel on the planet for you.
IN. YOUR. FACE. BRAD. *sobs*
Citations: ANGELINA JOLIE LOOK ALIKE ON DATING BRAD PITT EWWWW (TMZ)