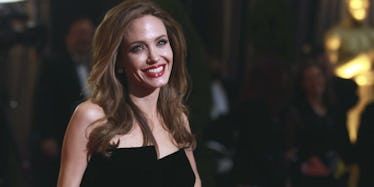 People Think This 21-Year-Old Model Looks Just Like Angelina Jolie
REUTERS/Lucas Jackson
If Kylie Jenner and Angelina Jolie got together and had a baby it would be Instagram model Mara Teigen.
I'm not sure if the concept of mashups has made it to the human race yet, but I think we should be birthing our babies to look like hybrids of major celebrities. Think about the gorgeous human population that will fill the world if we mate with the intention of having a kid with the body of Joe Manganiello and the head of Andrew Rannells.
Or just like ALL of Chris Hemsworth.
If you need proof you should check out Mara Teigen.
There is no way this woman wasn't created in a science lab using Jolie and Jenner DNA.
The 21-year-old model is beyond popular on Instagram, currently boasting over 560,000 followers.
She also once allegedly dated B-level NHL player Evander Kane!
If you think she looks familiar, it's probably because she was an integral part of Kylie Jenner's action movie/commercial for her Lip Kits.
NOW START MAKING THOSE RANNELLS/MANGANIELLO/HEMSWORTH BABIES, SCIENCE!
Citations: Angelina Jolie Has a Look-Alike in Kylie Jenner's Friend: See the Shocking Photos (Us Weekly)