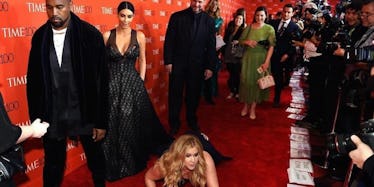 Amy Schumer 'Collapsed' In Front Of Kimye And Their Reactions Were Perfect (Photos)
Amy Schumer will do anything for a laugh, and her latest victims were Kim Kardashian West and Kanye West.
At the TIME 100 Gala in New York City, Schumer pretended to fall on the red carpet right in front of the two superstars.
Kim and Kanye seemed to be somewhat stunned by the incident, but it also didn't seem as if they did anything to help Schumer.
Prior to the fall, Schumer asked her publicist for permission.
The comedian said,
I saw them and said to my publicist, 'Can I pretend to fall?' and she said, 'I can't stop you.'
Here are some photos of the funny stunt:
Kanye West & Kim Kardashian are NOT amused: http://t.co/78sZ2gV5T9 pic.twitter.com/HSg2Lc21LQ — ELLE Magazine (US) (@ELLEmagazine) April 22, 2015
Amy Schumer for president!!! Here she is "meeting" Kim & Kanye at #Time100 tonight pic.twitter.com/5lkhwMNAi1 — Jarett Wieselman (@JarettSays) April 22, 2015
Thanks #TIME100 pic.twitter.com/bdAjImc5J5 — Amy Schumer (@amyschumer) April 22, 2015
Citations: See Amy Schumer Take a Dive on the Red Carpet With Kim and Kanye (TIME)