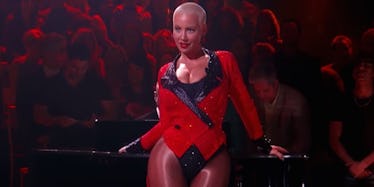 Amber Rose Makes Dramatic 'Dancing With The Stars' Exit, Posts Emotional Goodbye
ABC
Fans said goodbye to Amber Rose on Monday's episode of "Dancing With The Stars," despite the VH1 talk show host having just performed her highest-scoring dance of the season.
No lie, she did a great job. Just ask former contestant Jonathan Bennett.
Amber's Cha Cha with partner Maksim Chmerkovskiy couldn't save her a spot on the show, but she composed a touching post on Instagram to thank the "DWTS" regular for a great season.
She lamented the duo's "time was cut short," but gushed,
I'm so happy I had the chance to experience this with you! You truly are my brother for life! Who knew we would become so close in such a short amount of time? Thank you for not giving up on me and getting to know the real me with no judgment I'll love you forever for that reason and I'll always have ur back through whatever.
The 32-year-old also admitted to Maks she'd "miss [their] stressed out rehearsals more than anything" and signed the post "Amberony," an adorable nickname that may or may not make you super hungry for pizza (Just me? Liars).
Maksim also shared a photo of the team on his own Insta and attributed "some of the best weeks of my ['Dancing With The Stars'] career" to Amber.
He wrote,
You've not let me down and only made me more and more proud each week. You've become a friend and an older sister (although you're younger....you know what I mean :)), and this is definitely just the beginning of 'Amber and Maks'. This experience got cut short and I wish we would have just a few more weeks, but it happened exactly as it were meant to and I have absolutely no regrets. The world has yet to see what you can really do and I can't wait to be in your corner when it does.
Honestly, these two are one "HAKAS" away from writing full-on, eighth-grade yearbook farewells to one another. It's way more heartwarming than a "Dancing With The Stars" fallout ever needs to be, but that's just so Amber and Maks, you guys.
They're not just here to shake it. They're here to teach us how to love.
How to love, damn it.
Citations: Amber Rose Posts Sweet Message to 'Dancing With the Stars' Partner Maksim Chmerkovskiy After Elimination: 'You Truly Are My Brother for Life' (Us Weekly)