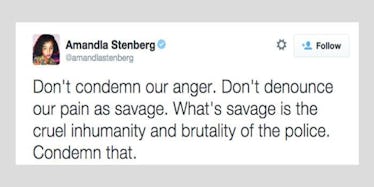 'Hunger Games' Star Amandla Stenberg Gives Her Opinion On Baltimore Riots
Twitter
Amandla Stenberg has no problem speaking her mind when it comes to race relations in America.
The "Hunger Games" star recently spoke out about cultural appropriation, especially as it pertains to the music industry.
Now, Stenberg is sharing her thoughts on the riots in Baltimore.
Stenberg took to Twitter and Tumblr to talk about the current struggles in Baltimore and police brutality in this nation.
For a 16-year-old, Stenberg is wise beyond her years. See her thoughts on Baltimore below.
Stenberg tweeted this:
My prayers go out to all my brothers & sisters in Baltimore. This battle is hard but crucial. The revolutionary youth will change the world. — Amandla Stenberg (@amandlastenberg) April 28, 2015
Don't condemn our anger. Don't denounce our pain as savage. What's savage is the cruel inhumanity and brutality of the police. Condemn that. — Amandla Stenberg (@amandlastenberg) April 28, 2015
And she reblogged this post on Tumblr:
Preach that, sis @amandlastenberg pic.twitter.com/kMVwva2oG7 — #AllBlackLivesMatter (@PoCBeauty) April 28, 2015
Citations: Hunger Games star Amandla Stenberg responds to Baltimore riots (EW)