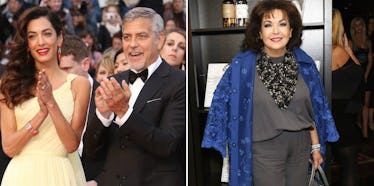 Amal Clooney's Mom Proves She's Already Best Grandma On Adorable Shopping Trip
REX/Shutterstock
It's only been two days since the news broke George and Amal Clooney are expecting twins, and the internet cannot. stop. gushing.
It's actually not just the internet. George's BFF and experienced dad Matt Damon confessed he "almost started crying" when he heard the news.
He told ET,
I'm thrilled for him. [Amal's] amazing. He hit the jackpot. Just on every level. She is a remarkable woman. They're gonna be great. They're gonna be awesome parents. Those kids are lucky.
I think we can pretty much all agree those kids are going to be extremely lucky (I mean, come on, those genes?!). But as excited as we are for these new bundles of joy, we clearly can't compete with the excitement of the parents and grandparents-to-be.
In fact, it looks like Amal's stylish mom, Baria Alamuddin, has already started shopping for the babies, who are reportedly due in June.
Just a few days before the world found out the news, Baria was spotted in London shopping at a vintage children's bookstore, People reports.
All signs point to this grandma being very involved in her grandchildren's lives. (Amal's sister, Tala, has a teenage daughter, who served as the flower girl in George and Amal's wedding in 2014.)
The famous couple appear to be very close to Amal's family. They were spotted in Barcelona in February after returning from a vacation with her parents to celebrate her 39th birthday.
The human rights lawyer has seemingly always had a close relationship with her mom, and might even take some cues from her when it comes to raising her two children.
While giving the keynote address at the Texas Conference for Women last fall, Amal revealed she considers her mom, who is a prominent journalist, the ultimate role model. She said,
I think growing up my mother was definitely a role model. She was always a working woman and someone who is independent and cared about her career and cared about being independent, but also had balance... She never lost her femininity, and she believed the balance was important and that is something that stuck with me.
The twins are definitely going to have a grandmother they can look up to -- and one who will most likely spoil them a bit, too.
Citations: Amal Clooney's Mom Baria Seen Buying Vintage Children's Books in London (People)