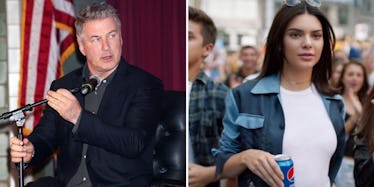 Alec Baldwin Defends Kendall Jenner Amid Pepsi Drama: 'Blame Her Management'
REX/Shutterstock, YouTube
Everyone is side-eyeing Kendall Jenner pretty severely right now after she co-opted the Black Lives Matter movement in her recent Pepsi commercial, but one famous person is coming to her defense.
That one person is Alec Baldwin, who took to Twitter to defend Jenner's controversial Pepsi ad.
Baldwin says we shouldn't be blaming 21-year-old Jenner for starring in the problematic commercial because she "is still very young." Instead, he says people should be placing the blame on Jenner's management for putting her in the commercial.
So, is Baldwin actually slamming Kris Jenner when he suggests "[Kendall's] management" it to blame?
I mean, Kris famously manages all of her daughters' careers — you don't have to look any further than her Twitter bio to see her signature title, "momager," on full display.
Kris Jenner's been taking her share of heat from the whole incident as well — and not just from Baldwin.
After Pepsi released a public apology to Kendall, a number of people started joking that Kris must have coerced the soda company into protecting her daughter from the backlash.
Although Baldwin might be right in shading Kris, his reasoning behind saying Kendall should be totally free from any blame seems a bit off.
He says Kendall is "a very young, inexperienced woman in an awful business."
Let's examine that statement: Kendall is 21, which yes, is pretty young, but well past the age where she can make her own decisions and should be held accountable for them.
Baldwin saying Jenner is "inexperienced" in show business is pretty laughable, considering she's been one of the most famous people in the world for the past decade, thanks to her family's reality show and her successful break into modeling.
Sorry Alec, but I'm pretty sure the real reason Kendall wasn't cognizant of the tone-deafness of her Pepsi ad wasn't because of her youth — many 21-year-olds are actively involved in the major civil rights movements occurring right now — or her "inexperience" (Kendall probably has more showbiz experience than half of Hollywood).
Citations: @ABFalecbaldwin (Twitter)