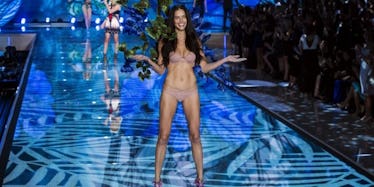 Adriana Lima Reveals Pre-Bedtime Snack That Burns Calories While She Sleeps
REUTERS
Adriana Lima and the rest of the Victoria's Secret models will walk down the runway today in the annual Victoria's Secret Fashion Show.
Now, I don't think I'm giving away any major spoilers here by saying Lima and her fellow models are going to look absolutely gorgeous when we see them when the show airs on December 5.
However, Adriana Lima and other VS models did give away quite a few secrets when they revealed the diets they use to keep their toned, ripped bodies in tip-top condition.
The 35-year-old Lima talked about the daily nutritional guidelines she follows, and she dished on the secret beverage she drinks every night before bed in order to burn calories.
The Brazilian-born beauty said,
Consistency is very important when it comes to eating. I eat six meals a day and work out at least six days a week doing mostly boxing.
Is there any doubt Lima would kick my ass? I think not.
Lima also revealed her secret weapon for maintaining her sexy body: buckwheat.
Yes, every night before she goes to sleep, Adriana Lima downs a buckwheat smoothie, which apparently is loaded with protein and can boost the metabolism while controlling a craving for sweets.
I mean, it's kinda hard to argue with the results, right?
Speaking on her buckwheat secret, the 35-year-old said,
I'll mix [buckwheat] with hemp milk and honey, and I'll eat it hot or cold depending on how I feel. Eating buckwheat before bedtime actually helps you burn calories while you sleep.
Who knew?
In addition to the buckwheat before bed, Lima also reportedly consumes oatmeal for breakfast, fruit for a snack, chicken or fish with Japanese yams and quinoa for lunch, raw almonds, dried cranberries and raw cashes for an afternoon snack and chicken or fish with Japanese yams and quinoa for dinner.
So, will Lima's buckwheat treat work for you? Well, according to registered dietitian and nutritionist Amy Shapiro,
Because it is high-fiber, your body could continue to keep working on [digesting] it when you're sleeping. But mostly it'll help with debloating.
You hear that, kids? Get your buckwheat on!
As far as the other VS Angels, Martha Hunt is all about the lean protein, Bridget Malcolm sticks to a vegan diet and Rachel Hilbert likes to keep it as varied as possible.
Citations: Victoria's Secret Angels reveal their diet secrets (New York Post)